Operational Updates
Click HERE for the most updated hours, customer guidelines and updates to store policy.
Handsome Johnny: The Life and Death of Johnny Rosselli: Gentleman Gangster, Hollywood Producer, CIA Assassin (Hardcover)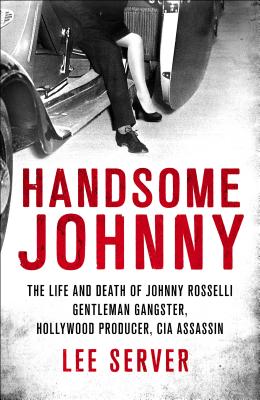 $29.99
Email or call for price
Description
---
A rich biography of the legendary figure at the center of the century's darkest secrets: an untold story of golden age Hollywood, modern Las Vegas, JFK-era scandal and international intrigue from Lee Server, the New York Times bestselling author of Ava Gardner: Love is Nothing…

A singular figure in the annals of the American underworld, Johnny Rosselli's career flourished for an extraordinary fifty years, from the bloody years of bootlegging in the Roaring Twenties--the last protégé of Al Capone—to the modern era of organized crime as a dominant corporate power. The Mob's "Man in Hollywood," Johnny Rosselli introduced big-time crime to the movie industry, corrupting unions and robbing moguls in the biggest extortion plot in history. A man of great allure and glamour, Rosselli befriended many of the biggest names in the movie capital—including studio boss Harry Cohn, helping him to fund Columbia Pictures--and seduced some of its greatest female stars, including Jean Harlow and Marilyn Monroe. In a remarkable turn of events, Johnny himself would become a Hollywood filmmaker—producing two of the best film noirs of the 1940s.

Following years in federal prison, Rosselli began a new venture, overseeing the birth and heyday of Las Vegas. Working for new Chicago boss Sam Giancana, he became the gambling mecca's behind-the-scenes boss, running the town from his suites and poolside tables at the Tropicana and Desert Inn, enjoying the Rat Pack nightlife with pals Frank Sinatra and Dean Martin. In the 1960s, in the most unexpected chapter in an extraordinary life, Rosselli became the central figure in a bizarre plot involving the Kennedy White House, the CIA, and an attempt to assassinate Fidel Castro. Based upon years of research, written with compelling style and vivid detail, Handsome Johnny is the great telling of an amazing tale.
About the Author
---
LEE SERVER is the author of the best-selling and critically acclaimed biographies Robert Mitchum: Baby, I Don't Care and Ava Gardner: Love is Nothing. Robert Mitchum was named a Best Book of the Year by the Los Angeles Times, "the film biography of the year" by the Sunday Times (U.K.) and one of the "60 Greatest Film Books." Ava Gardner was a New York Times Notable Book, and a New York Times, Los Angeles Times and USA Today bestseller. He lives in Palm Springs, California.
Praise For…
---
Praise for Handsome Johnny:
"No one knew more about the mob, Hollywood and Las Vegas than Johnny Rosselli, and Lee Server got it all in Handsome Johnny." —Nicholas Pileggi, author/screenwriter of Goodfellas and Casino

"No one slices and dices true tales like Lee Server. In Handsome Johnny, he cracks the vault of time to reveal long-buried secrets. Maybe even this country's biggest secret...Fast-paced, insightful, bold, witty, and masterfully told." —James Gladstone, Executive V.P. Lionsgate Entertainment and author of The Man Who Seduced Hollywood

"The incredible life of Handsome Johnny, a gangster worthy of the movies....Server's biography not only provides a window into Rosselli's life but also contextualizes a time when Hollywood, politics and organized crime were inextricably linked." —The Washington Post

"Written in the snappy style of a hardboiled detective novel...an in-depth history of the growth, development and eventual decline of organized crime in America." —The Economist

"Based upon years of research, written with compelling style and vivid detail, HANDSOME JOHNNY is a rich rollercoaster of a biography." —TCM.com Movie News

"Server employs evocative phrasing to luridly examine the shady underbelly of movies, moguls, and politics from the 1930s through the '60s, all through the prism of the charming Rosselli. Filled with crackerjack writing and Damon Runyonesque characters, this entertaining page-turner is a rich look at one of organized crime's most intriguing characters." —Publishers Weekly (starred review)

"A definitive rags-to-riches biography... Paced like a fine piece of fiction, this is a handsomely written chronicle of an interesting mob character." —Kirkus Reviews

"Author Lee Server has done his homework on Handsome Johnny and no stone is left un-turned. It's a fascinating look the mob, it's influence, it's muscle and some of the biggest names of the day that were involved with the Mafia whether they wanted to be or not. One thing for sure is Johnny Rosselli didn't lead a boring life." —Red Carpet Crash

"Lee Server does a bang-up job with this guy, not allowing endless detail to overwhelm the reader. I enjoyed the thrill ride from front cover to ending." —Stuff I Like blog

"If the Mob history is your genre, then add this to the shelves of your library." —Melisende's Library blog

Praise for Ava Gardner:

Super. —USA Today

Irresistible and finally heartbreaking. —The Newark Star-Ledger

Gardner's career, hard drinking and screen-worthy love affairs are all chronicled in Server's page-turner prose, doing justice to one of cinema's most beautiful faces. —Publishers Weekly

A no-holds-barred view of a larger-than-life star. —Booklist