Operational Updates
Click HERE for the most updated hours, customer guidelines and updates to store policy.
The Sexual History of London: From Roman Londinium to the Swinging City---Lust, Vice, and Desire Across the Ages (Hardcover)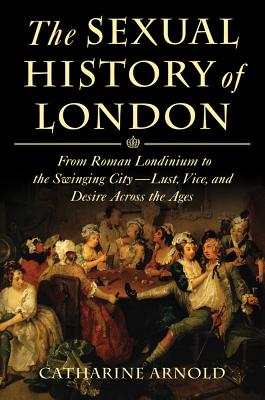 $25.99
Email or call for price
Description
---
"If Paris is the city of love, then London is the city of lust. From the bath houses of Roman Londinium to the sexual underground of the twentieth century and beyond, this is an entertaining, vibrant chronicle of London and sex through the ages."
For more than a thousand years, England's capital has been associated with desire, avarice, and the sins of the flesh. Richard of Devises, a monk writing in 1180, warned that "every quarter abounds in great obscenities." As early as the second century AD, London was notorious for its raucous festivities and disorderly houses, and throughout the centuries the bawdy side of life has taken easy root and flourished.
In "The Sexual History of London," award-winning popular historian Catharine Arnold turns her gaze to London's relationship with vice through the ages. London has always traded in the currency of sex. Whether pornographic publishers on Fleet Street, or courtesans parading in Haymarket, its streets have long been witness to colorful sexual behavior. In an accessible, entertaining style, Arnold takes us on a journey through the fleshpots of London from earliest times to present day. Here are buxom strumpets, louche aristocrats, popinjay politicians, and Victorian flagellants--all vying for their place in London's league of licentiousness.
From sexual exuberance to moral panic, the city has seen the pendulum swing from Puritanism to hedonism and back again. With latter chapters looking at Victorian London and the sexual underground of the twentieth century and beyond, this is a fascinating and vibrant chronicle of London at its most raw and ribald.
About the Author
---
Catharine Arnold read English at Girton College, Cambridge, and holds a further degree in psychology. A journalist, academic, and popular historian, her previous books include "Necropolis: London and Its Dead "and" Bedlam: London and Its Mad. "
Praise For…
---
Praise for The Sexual History of London
"Hugely entertaining . . . [Arnold] is a delightful travelling companion through the centuries of the city of sin." —Jeanette Winterson, The Times (UK)
"Often titillating, sometimes shocking, frequently entertaining . . . The book is a lively affirmation of sexual desire in all its varieties." —The Observer (UK)

"To pack 2000 years of vice into less than 400 pages is a challenge, but Arnold achieves it admirably." —The Independent (UK)
"There's plenty to get stuck into here. Arnold arranges her formidable research lucidly." —Evening Standard (UK)

"Richly detailed . . . an engaging survey of sex and the city." —The Sunday Times (UK)