Operational Updates
Click HERE for the most updated hours, customer guidelines and updates to store policy.
Why Women Have Sex: Women Reveal the Truth About Their Sex Lives, from Adventure to Revenge (and Everything in Between) (Paperback)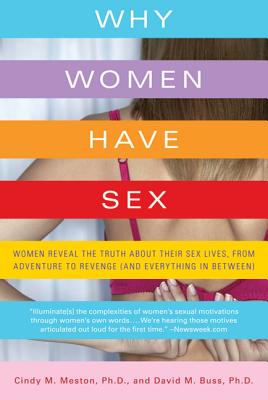 $23.99

NOT ON OUR SHELVES- available for order, usually ships in 1-5 days
Description
---
An unparalleled exploration of the mysteries underlying women's sexuality that rivals the culture-shifting Kinsey Report, from two of America's leading research psychologists

Do women have sex simply to express love, experience pleasure, or reproduce? When clinical psychologist Cindy M. Meston and evolutionary psychologist David M. Buss, both at the University of Texas at Austin, joined forces to investigate women's underlying sexual motivations, what they found astonished them.

Using women's own words, and backed by extensive scientific evidence, the authors delve into the use of sex as a defensive tactic against a mate's infidelity, a ploy to boost social status, a barter for household chores, and even as a cure for a migraine headache. Meston and Buss offer a revelatory examination of the deep-seated psychology and biology that often unwittingly drive women to have sex, sometimes in pursuit of joy, and sometimes for darker, more disturbing reasons.

Why Women Have Sex stands as the richest and deepest psychological understanding of women's sexuality yet achieved and promises to inform every woman's (and her partner's) awareness of her relationship to sex.
About the Author
---
Cindy M. Meston is one of the world's leading researchers on women's sexuality, a professor at the University of Texas at Austin, and director of the Sexual Psychophysiology Laboratory.

David M. Buss, one of the founders of evolutionary psychology, is a professor at the University of Texas at Austin and is the author The Evolution of Desire and The Dangerous Passion.
Praise For…
---
"Occasionally poetic, always candid. The book is filled with insights with which to start conversations." —Psychology Today

"Why Women Have Sex is an endlessly well informed and irresistibly readable book. The candor of the women's responses and the authors' knowledge of all that has been happening in the world of sex research for the past few decades combine to make it the most fascinating and illuminating look at female sexuality since Kinsey's Sexual Behavior in the Human Female." —Mary Roach, author of Bonk: The Curious Coupling of Science and Sex

"What an excellent book! You will come away from reading Why Women Have Sex with a better understanding of what turns women on or off, the physiology underlying desire and arousal, the likely consequences when sex is undertaken to thwart or titillate a partner, and the complexity of sexual desire. There is not much more one can ask for--to be at once enlightened and entertained by two trustworthy and sympathetic experts." —Sandra R. Leiblum Ph.D., author of Getting the Sex You Want

"Why Women Have Sex is full of fascinating research that will help everyone better understand and appreciate their sexual selves." —Christiane Northrup, M.D., author of The Secret Pleasures of Menopause and The Wisdom of Menopause

"Why Women Have Sex is a captivating tour of what psychology and biology can tell us about women's sexual motivation. Meston and Buss are first-rate scientists and skilled writers who actually answer the question that everyone was afraid to ask." —Daniel Gilbert, professor of psychology, Harvard University, and author of Stumbling on Happiness