Glazed Murder: A Donut Shop Mystery (Donut Shop Mysteries #1) (Mass Market)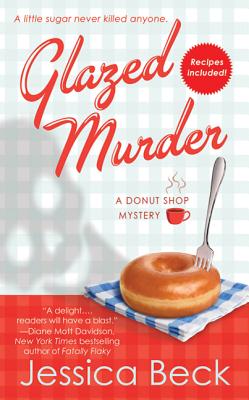 Description
---
Meet Suzanne Hart, owner and operator of Donut Hearts coffee shop in April Springs, North Carolina. After her divorce from Max, an out-of-work actor she's dubbed "The Great Impersonator," Suzanne decided to pursue her one true passion in life: donuts. So she cashed in her settlement and opened up shop in the heart of her beloved hometown.
But when a dead body is dumped on her doorstep like a sack of flour, Suzanne's cozy little shop becomes an all-out crime scene. Now, everyone in town is dropping by for glazed donuts and gruesome details. The retired sheriff warns her to be careful—and they're all suspects. Soon Suzanne—who finds snooping as irresistible as donuts—is poking holes in everyone's alibis…
About the Author
---
Jessica Beck loves donuts, and has the figure to prove it. It's amazing what people can convince themselves is all in the name of research! For each recipe featured in the donut shop mysteries, a dozen more are tried and tested. Jessica Beck is the penname of an author who has been nominated for the Agatha Award and named an Independent Mystery Booksellers Association national bestseller nearly a dozen times. When not concocting delicious treats, Beck enjoys the rare snowfalls near her home in the foothills of North Carolina.
Praise For…
---
"The perfect comfort read: a delicious murder, a likeable heroine, quirky Southern characters--and donut recipes!" —Rhys Bowen, Agatha and Anthony award–winning author of the Molly Murphy and Royal Spyness mysteries
"If you like donuts--and who doesn't?--you'll love this mystery. It's like a trip to your favorite coffee shop, but without the calories!" —Leslie Meier, author of the Lucy Stone mysteries New Year's Eve Murder and Wedding Day Murder
"Jessica Beck's Glazed Murder is a delight. Suzanne Hart is a lovable amateur sleuth who has a hilariously protective mother and great doughnut recipes! Readers will have a blast with this book." —Diane Mott Davidson, New York Times bestselling author of Fatally Flaky