Fatally Frosted: A Donut Shop Mystery (Donut Shop Mysteries #2) (Paperback)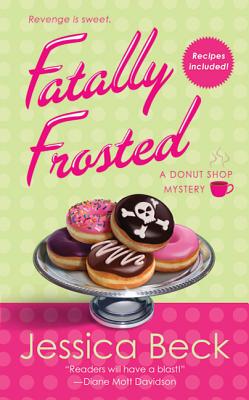 Description
---
A local busy body has dropped dead after eating one of Suzanne's famous treats. A forensic team is soon swarming through the Donut Hearts kitchen, dusting for clues, sifting through sugar, and suspecting the worst of Suzanne. But with the help of police inspector Jake Bishop and her ex-husband Max, Suzanne hopes to clear her good name—before another bad donut is fatally frosted...
Jessica Beck has crafted another delicious Donut Shop Mystery in Fatally Frosted, the follow-up to Glazed Murder.
About the Author
---
Jessica Beck loves donuts, and has the figure to prove it. It's amazing what people can convince themselves is all in the name of research! For each recipe featured in the donut shop mysteries, a dozen more are tried and tested. Jessica Beck is the penname of an author who has been nominated for the Agatha Award and named an Independent Mystery Booksellers Association national bestseller nearly a dozen times. When not concocting delicious treats, Beck enjoys the rare snowfalls near her home in the foothills of North Carolina.
Praise For…
---
"Jessica Beck's Glazed Murder is a delight. Suzanne Hart is a lovable amateur sleuth who has a hilariously protective mother and great donut recipes! Readers will have a blast with this book." —Diane Mott Davidson, New York Times bestselling author of Fatally Flaky on Glazed Murder
"A tribute to comfort food and to the comfort of small town life. With great donut recipes!" —Joanna Carl, author of The Chocolate Cupid Killings on Glazed Murder
"If you like donuts--and who doesn't?--you'll love this mystery. It's like a trip to your favorite coffee shop, but without the calories!" —Leslie Meier, author of the Lucy Stone mysteries New Year's Eve Murder and Wedding Day Murder on Glazed Murder
"The perfect comfort read: a delicious murder, a likeable heroine, quirky Southern characters--and donut recipes!" —Rhys Bowen, Agatha and Anthony award–winning author of the Molly Murphy and Royal Spyness mysteries on Glazed Murder
"Jessica Beck's debut mystery, Glazed Murder, is a yummy new treat in the culinary mystery genre. Skillfully weaving donut recipes throughout a well-plotted story, the author proves that life after divorce can be sweet; all you need are good friends, your own business, and comfort food. Delicious!" —Tamar Myers, author of Death of a Rug Lord and The Cane Mutiny on Glazed Murder