Operational Updates
Click HERE for the most updated hours, customer guidelines and updates to store policy.
No Werewolves Allowed: A Night Tracker Novel (Mass Market Paperback)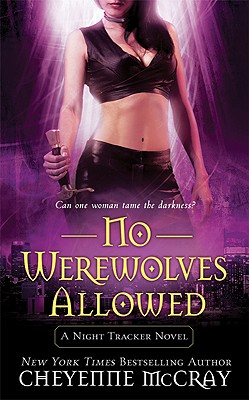 Description
---
As a half-human, half-Drow private eye, Nyx is the go-to girl for tracking Demons in the night. So when several of New York City's Werewolves go missing, Alpha Werewolf Dmitri Beketov hires Nyx for the job. But this time, she must leave the dark alleys and bright lights behind…
Nyx's sixth sense tells her that life in the slow lane is a lot deadlier than it appears. Though she usually prefers to work solo, with this case she's going to need all the help she can get. Enter Detective Adam Boyd: he's watching her back, but is this human too sexy for his—and her—own good? Meanwhile, a powerful, malevolent force is exterminating paranorms and "unworthy" humans alike…and Nyx, still trying to get a foothold in her new surroundings, finds herself facing danger at every turn, in No Werewolves Allowed, a Night Tracker Novel from bestselling author Cheyenne McCray.
About the Author
---
"New York Times" and" USA Today" bestselling author Cheyenne McCray writes the Night Tracker novels and the Armed and Dangerous series, among others. She grew up on a ranch in southeastern Arizona. She has been writing ever since she can remember, back to her kindergarten days when she penned her first poem. She always knew one day she would write novels--she wanted to create worlds that readers would get lost in, just as she had always gotten lost in her favorite books. "Growing up I read, read, and read," she says, "and grew up to write, write, write." She has three sons and two dogs. A true Arizona native, she loves the desert and all of the sunshine and beautiful sunsets that go along with it.
Praise For…
---
"Nyx is back and ready to kick more butt in the second installment of the Night Tracker series. This time Nyx's first person adventures focus on her Night Tracker duties, rather than her P.I. business. McCray introduces some interesting secondary characters that add depth to this developing world. As always, there is a seductive sensuality mised in with the hair-raising adventures." -Romantic Times 
"Ms. McCray has written a wonderfully hot story that has characters we will love. Her characters are beautifully fleshed-out, believable and intelligent. The storyline is fascinating, intriguing and fast-paced. This book is a fantastic page-turner that has great romance, lots of the paranormal, adventure, thrills and chills." --Night Owl Romance
"Interesting characters, fast-paced plot and fascinating world-building make this a must-read."--Fresh Fiction