Operational Updates
Click HERE for the most updated hours, customer guidelines and updates to store policy.
Zombies Sold Separately: A Night Tracker Novel (Mass Market Paperbound)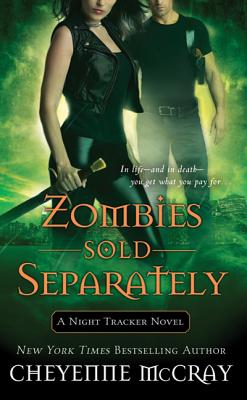 $7.99
Email or call for price.
Description
---
Nyx hates Zombies. Seriously. Hates. Zombies. Ever since she was a youngling, she's been haunted by them. And even though she's a big girl now a half-human, half-Drow private eye, to be precise Nyx bristles at the mere thought of the walking dead.
Meanwhile, the corpses of humans and paranorms alike are turning up all over New York City. Now it's up to Nyx to find out who or what is behind this series of horrific attacks. But it's only a matter of time before Nyx is drawn deeper into her darkest fears and her worst nightmare about meeting a real, flesh-and-blood-hungry, body-snatching Zombie comes blindingly to life. Or death
Nyx faces her most terrifying case yet in "Zombies Sold Separately--"a Night Tracker Novel from bestselling author Cheyenne McCray.
About the Author
---
New York Times and USA Today bestselling author Cheyenne McCray writes the Night Tracker novels and the Armed and Dangerous series, among others. She grew up on a ranch in southeastern Arizona. She has been writing ever since she can remember, back to her kindergarten days when she penned her first poem. She always knew one day she would write novels--she wanted to create worlds that readers would get lost in, just as she had always gotten lost in her favorite books. "Growing up I read, read, and read," she says, "and grew up to write, write, write." She has three sons and two dogs. A true Arizona native, she loves the desert and all of the sunshine and beautiful sunsets that go along with it.
Praise For…
---
"A half-drow versus zombies...constant excitement!" --Fresh Fiction on Zombies Sold Separately "The latest Night Tracker urban fantasy is an exhilarating thriller." --Midwest Book Review on Zombies Sold Separately "The versatile and talented McCray is slowly unveiling a supernatural society fraught with menace and plagued by prejudice and discord. Her Night Tracker series continues to be fast paced and populated with intriguing characters. Hang on, for McCray is about to send things into overdrive!" --RT Book Reviews on Vampires Not Invited
"Nyx is back and ready to kick more butt in the second installment of the Night Tracker series…McCray introduces some interesting secondary characters that add depth to this developing world. As always, there is a seductive sensuality mixed in with the hair-raising adventures."—Romantic Times BOOKreviews on No Werewolves Allowed
"McCray has written a wonderfully hot story that has characters we will love… beautifully fleshed-out, believable, and intelligent. The storyline is fascinating, intriguing, and fast-paced. This book is a fantastic page-turner that has great romance, lots of the paranormal, adventure, thrills, and chills." —Night Owl Romance on No Werewolves Allowed
"Interesting characters, [a] fast-paced plot, and fascinating world-building make this a must-read."—Fresh Fiction on No Werewolves Allowed
"The hot new Night Tracker series promises plenty of thrills and chills. McCray does an excellent job establishing this world and its host of intriguing characters. The action is fast and furious, and the danger escalating. Add in some sexy sizzle and you have another patented McCray gem."—Romantic Times BOOKreviews (Top Pick, 41/2 stars) on Demons Not Included
"McCray weaves a supernatural tale of mystery, murder, and blossoming romance.  Demons Not Included has a well-rounded cast, a captivating storyline, and plenty of suspense to keep readers guessing."—Darque Reviews on Demons Not Included