Operational Updates
Click HERE for the most updated hours, customer guidelines and updates to store policy.
Bet Me (Paperback)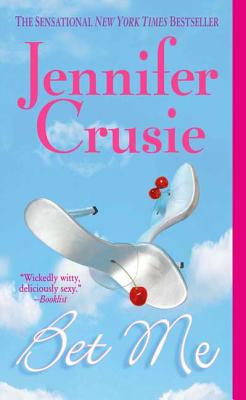 $7.99
Email or call for price.
Description
---
Minerva Dobbs knows that happily-ever-after is a fairy tale, especially with a man who asked her to dinner to win a bet. Even if he is gorgeous and successful Calvin Morrisey. Cal knows commitment is impossible, especially with a woman as cranky as Min Dobbs. Even if she does wear great shoes, and keep him on his toes. When they say good-bye at the end of their evening, they cut their losses and agree never to see each other again.
But Fate has other plans, and it's not long before Min and Cal meet again. Soon, they're dealing with a jealous ex-boyfriend, Krispy Kreme donuts, a determined psychologist, chaos theory, a freakishly intelligent cat, Chicken Marsala, and more risky propositions than either of them ever dreamed of. Including the biggest gamble of all-true love.
Bet Me is the winner of a 2005 RITA Award.
About the Author
---
Jennifer Crusie was researching her dissertation on the differences in the way men and women tell stories when she got sidetracked into writing romance novels.
Her first book was published in 1993 (which pretty much finished off any hope of her getting that PhD) and her twenty-second book, Maybe This Time, came out in August of 2010, all of which she considers a minor miracle, especially since she is also a New York Times, USA Today and Publishers Weekly bestselling author and a two-time Rita award winner.
Praise For…
---
"Few popular writers handle light romantic comedy as deftly as Jennifer Crusie." —Boston Globe
"With multiple references to Chicken Marsala, Krispy Kreme donuts, and Midwestern brats...Crusie's latest should delight romance readers with a penchant for sinful foods." —Publishers Weekly
"New York Times best-selling Crusie maintains her winning streak in another wickedly witty, deliciously sexy contemporary romance. Finding exactly the right balance between cynicism and optimism, Crusie deftly blends snappy dialogue; quirky, irrepressible secondary characters; and two beautifully matched protagonists struggling against their romantic fate." —Booklist
"Utilizing her own unique brand of humor and panache, Crusie delivers yet another amazingly fun and funny novel. Eccentric characters abound in this book, making each new situation slightly offbeat, touching, and always hilarious." —Romantic Times
"A sure bet...Jennifer Crusie's rollicking romance hits the jackpot." —Bookpage
"A cast of immensely appealing characters and smart dialogue...enthusiastically recommended." —Library Journal
"Crusie has another hit on her hands with this romantic comedy, a novel in the madcap vein of the films of George Cukor and Billy Wilder-updated with plenty of modern-day spice. Witty, sharp, and wickedly funny, Bet Me is eminently satisfying." —Booksense
"The incomparable Crusie skillfully uses humor to gain insight into her characters' foibles and insecurities...a fun, sexy tale not to be missed." —Old Book Barn Gazette
"This story is solid gold! As much as I enjoyed this author's previous books, this one is the best yet! There is no doubt in my mind that it will hit the bestsellers list AND win awards. Yes, it IS that good! Jennifer Crusie, you deserve a standing ovation for this little gem. Highly recommended!" —Huntress Reviews
Coverage from NPR