Rags & Bones: New Twists on Timeless Tales (Hardcover)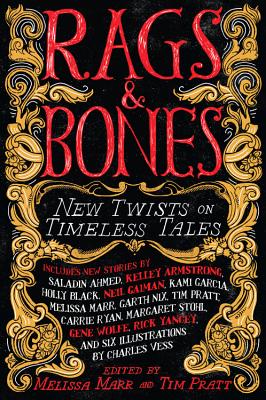 Description
---
The best writers of our generation retell classic tales.

From Sir Edmund Spenser's The Faerie Queene to E. M. Forster's "The Machine Stops," literature is filled with sexy, deadly, and downright twisted tales. In this collection, award-winning and bestselling authors reimagine their favorite classic stories, the ones that have inspired, awed, and enraged them, the ones that have become ingrained in modern culture, and the ones that have been too long overlooked. They take these stories and boil them down to their bones, and reassemble them for a new generation of readers.

Written from a twenty-first century perspective and set within the realms of science fiction, dystopian fiction, fantasy, and realistic fiction, these short stories are as moving and thought provoking as their originators. They pay homage to groundbreaking literary achievements of the past while celebrating each author's unique perception and innovative style.

Today's most acclaimed authors use their own unique styles to rebuild the twelve timeless stories:

Sir Edmund Spenser's The Faerie Queene - Saladin Ahmed

W. W. Jacobs's "The Monkey's Paw" - Kelley Armstrong

Joseph Sheridan Le Fanu's "Carmilla" - Holly Black

"Sleeping Beauty" - Neil Gaiman

The Brothers Grimm's "Rumpelstiltskin" - Kami Garcia

Kate Chopin's The Awakening - Melissa Marr

Rudyard Kipling's "The Man Who Would Be King" - Garth Nix

Henry James's "The Jolly Corner" - Tim Pratt

E. M. Forster's "The Machine Stops" - Carrie Ryan

Horace Walpole's The Castle of Otranto - Margaret Stohl

William Seabrook's "The Caged White Werewolf of the Saraban" - Gene Wolfe

Nathaniel Hawthorne's "The Birth-Mark" - Rick Yancey

And six illustrations by Charles Vess
About the Author
---
Melissa Marr is the New York Times bestselling author of the Wicked Lovely series. The series has sold in 24 languages to date, appeared on bestseller lists abroad, and is in development with Universal Studios for a major motion picture. She is also the co-author (with Kelley Armstrong) of the upcoming Blackwell Pages and co-editor (with Armstrong) of the forthcoming YA anthologies, Enthralled (2011) and Entrapped (2013).

Tim Pratt is a Hugo Award-winning science fiction and fantasy author whose works have been nominated for most of the major genre awards. His stories have been reprinted in numerous Year's Best anthologies, including the Best American Short Stories. He is a senior editor at Locus, the magazine of the science fiction and fantasy field, and edited the 2010 anthology Sympathy for the Devil.


Praise For…
---
Praise for Rags & Bones:
A YALSA Best Fiction for Young Adults Pick

* "There are no rags and bones here; each of these stories and illustrations is sumptuously clothed and fully fleshed out, so that readers will not need to be familiar with the originals to enjoy the newly imagined versions."
—
BCCB (starred review)
"While the tone varies from witty to poignant, from lush and sensual to dry and didactic, the stories share a darkly fantastic sensibility, often with a horrific undercurrent...A thoughtful selection of exquisite literary amuse-bouches."
—
Kirkus Reviews
"[An] eclectic anthology...plenty for readers to savor."—
Publishers Weekly
"An interesting mix of fantasy, science fiction, and horror-well written and highly varied-that is sure to appeal to older teens..."—
School Library Journal
"...Most of the stories-wildly various, like their predecessors-hit their mark and brilliantly contemporize themes considered decades in the past."—
VOYAPraise for Melissa Marr's (editor) Enthralled:
"This collection is ideal as a sampler tray for paranormal readers looking to pick up new authors to follow or to further explore the fictional worlds they already know."
—
Kirkus Reviews
"Fans of the paranormal will discover a rich primer of the genre's current offerings, from sweeping romance to grisly zombies."—
VOYAPraise for Tim Pratt's (editor) Sympathy for the Devil:
"Distinguished for both variety and quality"
—
Booklist