The Angel of Blythe Hall: A Historical Novel (Paperback)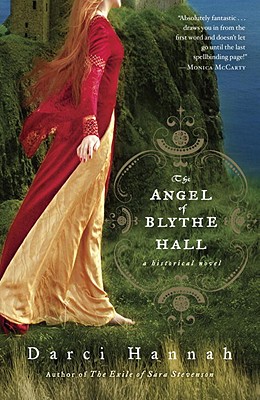 $15.00
Backordered or Out of Print
Description
---
In a tumultuous battle, a beautiful and determined noblewoman claims her birthright while awakening great danger, exquisite passion, and the mystical realm in this enchanting novel of suspense and adventure.
Prepared to lay claim to her family's magnificent ancestral fortress in the Scottish border country, Lady Isabeau Blythe is determined to restore her noble family's good name and reclaim these stunning, strife-torn lands. But even the headstrong Isabeau's firm sense of reality is shaken by the inexplicable allure of Blythe Hall, an entrancing castle haunted by dark secrets and otherworldly creatures of light and desire.
Isabeau's arrival sets in motion an epic power struggle: a ferocious fight for Scotland, her family, and her heart. Taunted and tempted by a sinister rogue knight, Sir George, who covets her land and her love, and trapped in the madness of her charismatic brother, Julius, who seeks power of unearthly origin, Isabeau can only surrender to the wild visions of the remarkable man she inexplicably longs for. With a bloodthirsty army amassing outside her gates, Isabeau summons help from Gabriel, the elusive man of her dreams. But does this alluring man possess the secrets of the castle and her destiny?
Praise For…
---
Praise for the novels of Darci Hannah
 
"Absolutely fantastic! A beautifully written novel that draws you in from the first word and doesn't let go until the last spellbinding page. I loved every minute of it. If you enjoy historical fiction with visceral historical detail, evocative gothic atmosphere, intriguing mystery, thrilling adventure, heart-tugging romance, and a mystical twist, you won't want to miss this one."—Monica McCarty, on The Angel of Blythe Hall
 
"The vibrant voice of Hannah's heroine brings the lonely coast of Scotland very much to life."—Lauren Willig, on The Exile of Sara Stevenson