Montana Bride: A Bitter Creek Novel (Mass Market)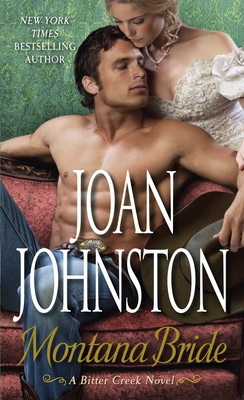 $7.99
Backordered or Out of Print
Other Books in Series
This is book number 11 in the Bitter Creek series.
Description
---
NEW YORK TIMES BESTSELLER

A DESPERATE DECEPTION
THE PROMISE OF FOREVER
 
When Karl Norwood's mail-order bride meets an untimely demise on the way to the Montana Territory, Hetty Wentworth steps in to take her place. Hetty has no idea how she's going to pretend to be all the things she isn't—including the mother of two kids. She only knows her deception is necessary if she's going to save two orphans from the awful fate she suffered as a child.
 
Karl smells a rat when a much younger woman than he was expecting arrives with two children who look nothing like her. But his mail-order bride is so beautiful, he doesn't object—until he realizes that his charming new wife has been lying . . . about everything. Can a woman forced to keep secrets and a man hindered by distrust ever hope to find happily ever after in each other's arms?

Praise for Montana Bride
 
"[A] swiftly paced romance."—Publishers Weekly
 
"Montana Bride is a compelling read and definitely a noteworthy addition to a great series."—Fresh Fiction
 
"Joan Johnston knows how to spin a story that will get to the readers every time. [Montana Bride] is no different. . . . It was emotional, heartfelt and real. It was honest. . . . It was simply magic from a master storyteller."—Night Owl Reviews
 
"If you are a fan of historicals, a fan of beautiful descriptive writing, and a fan of steamy romance, you won't want to miss out on Montana Bride."—Guilty Pleasures Book Reviews
 
"Johnston has a keen eye for quirky circumstances that put her characters, and the reader, through a wringer. Laughing one moment and crying the next, you'll always have such a great time getting to the happy-ever-after."—Romance Junkies Reviews

The passionate Westerns in Joan Johnston's Bitter Creek series can be enjoyed together or separately, in any order:
TEXAS BRIDE • WYOMING BRIDE • MONTANA BRIDE • SINFUL • SHAMELESS • BLACKTHORNE'S BRIDE • SULLIVAN'S PROMISE

About the Author
---
Joan Johnston is the New York Times and USA Today bestselling author of more than sixty historical and contemporary romance novels. She received a master of arts degree in theater from the University of Illinois and graduated with honors from the University of Texas School of Law at Austin. She is currently a full-time writer living in Colorado.
Praise For…
---
Praise for Montana Bride
 
"[A] swiftly paced romance."—Publishers Weekly
 
"Montana Bride is a compelling read and definitely a noteworthy addition to a great series."—Fresh Fiction
 
"Joan Johnston knows how to spin a story that will get to the readers every time. [Montana Bride] is no different. . . . It was emotional, heartfelt and real. It was honest. . . . It was simply magic from a master storyteller."—Night Owl Reviews
 
"If you are a fan of historicals, a fan of beautiful descriptive writing, and a fan of steamy romance, you won't want to miss out on Montana Bride."—Guilty Pleasures Book Reviews
 
"Johnston has a keen eye for quirky circumstances that put her characters, and the reader, through a wringer. Laughing one moment and crying the next, you'll always have such a great time getting to the happy-ever-after."—Romance Junkies Reviews