The Whispering Room: A Jane Hawk Novel (Hardcover)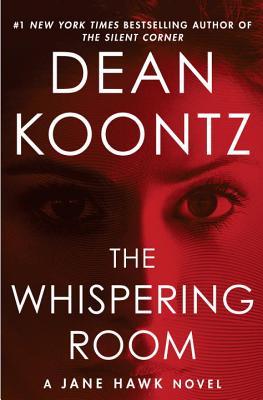 $28.00
Backordered or Out of Print
Other Books in Series
This is book number 2 in the Jane Hawk series.
December 2017 Indie Next List
---
"If you haven't read Dean Koontz's exciting new action-thriller series, you must! The first was The Silent Corner, and now, with The Whispering Room, I was totally blown away! Koontz is a master of the thriller, and FBI agent Jane Hawke is a kick-ass kind of woman that you will root for all the way!"
— Stephanie Crowe, Page & Palette, Fairhope, AL
Description
---
NEW YORK TIMES BESTSELLER • Jane Hawk—fiction's most relentless, resourceful, stunning new heroine—continues her battle against a murderous conspiracy in the riveting sequel to The Silent Corner.

"No time to delay. Do what you were born to do. Fame will be yours when you do this."

These are the words that ring in the mind of mild-mannered, beloved schoolteacher Cora Gundersun—just before she takes her own life, and many others', in a shocking act of carnage. When the disturbing contents of her secret journal are discovered, it seems certain that she must have been insane. But Jane Hawk knows better.

In the wake of her husband's inexplicable suicide—and the equally mysterious deaths of scores of other exemplary individuals—Jane picks up the trail of a secret cabal of powerful players who think themselves above the law and beyond punishment. But the ruthless people bent on hijacking America's future for their own monstrous ends never banked on a highly trained FBI agent willing to go rogue—and become the nation's most wanted fugitive—in order to derail their insidious plans to gain absolute power with a terrifying technological breakthrough.

Driven by love for her lost husband and by fear for the five-year-old son she has sent into hiding, Jane Hawk has become an unstoppable predator. Those she is hunting will have nowhere to run when her shadow falls across them.

Don't miss any of Dean Koontz's gripping Jane Hawk thrillers:
THE SILENT CORNER • THE WHISPERING ROOM • THE CROOKED STAIRCASE • THE FORBIDDEN DOOR • THE NIGHT WINDOW 

Praise for The Whispering Room

"Koontz has never exactly shied away from complex characters or situations. And this situation gets very complex indeed, as Jane pursues the people behind the conspiracy with the kind of single-minded relentlessness that makes the book absolutely spellbinding. As good as The Silent Corner was, this one's even better. . . . Koontz is on another roll with a new series that boasts a juicy premise and a compelling star. . . . Pure gold."—Booklist (starred review)
 
"A deeply layered, satisfying thriller that is character-driven and nearly impossible to put down . . . grounded in many real-world, current issues . . . [The Whispering Room] never loses sight of the classic political/sci-fi/thriller elements that make it so much fun to read."—Bookreporter
About the Author
---
Dean Koontz, the author of many #1 New York Times bestsellers, lives in Southern California with his wife, Gerda, their golden retriever, Elsa, and the enduring spirits of their goldens, Trixie and Anna.
Praise For…
---
"Koontz has never exactly shied away from complex characters or situations. And this situation gets very complex indeed, as Jane pursues the people behind the conspiracy with the kind of single-minded relentlessness that makes the book absolutely spellbinding. As good as The Silent Corner was, this one's even better. . . . Koontz is on another roll with a new series that boasts a juicy premise and a compelling star. . . . Pure gold."—Booklist (starred review)
 
"A deeply layered, satisfying thriller that is character-driven and nearly impossible to put down . . . grounded in many real-world, current issues . . . [The Whispering Room] never loses sight of the classic political/sci-fi/thriller elements that make it so much fun to read."—Bookreporter 
 
"Jane Hawk, the compelling heroine of The Silent Corner, returns in another terrifying Dean Koontz conspiracy thriller, The Whispering Room. . . . The character of Jane Hawk is arguably the best character Koontz has created. Knowledge of The Silent Corner helps put some of the narrative in perspective, but it's not necessary to fall under the author's spell. It's clear that another story featuring her quest for ultimate justice is on the horizon, and hopefully there will be even more after that. Simply put, wow."—Associated Press

"From exciting to overdrive, there's something dangerous around every corner that will have readers loving the thrills and chills. . . . Hawk is one of those rare characters that quickly became a favorite with readers and, thankfully, will continue for a long time to come."—Suspense Magazine

Acclaim for Dean Koontz's previous Jane Hawk novel, The Silent Corner
 
"Gripping . . . The paranoia and mystery increase as the story unfolds. . . . Koontz has created [a] wonderful character in Jane Hawk. . . . Koontz rocks it again."—Associated Press
 
"In this era of stingy text-message prose, Mr. Koontz is practically Shakespeare. . . . The Silent Corner brims with both action and emotion."—Pittsburgh Post-Gazette
 
"The Silent Corner is vintage Dean Koontz: paranoia-fueled suspense . . . sleek and highly realized action, developed characters, and more twists and turns than any two ordinary novels combined. . . . As relevant to current events as it is audacious . . . amongst Dean Koontz's finest contemporary work."—Mystery Scene
 
"A proven specialist in action scenes, Koontz pulls off some doozies here. . . . The book is full of neat touches. . . . And the prose, as always in a Koontz novel, is first-rate. Perhaps Koontz's leanest, meanest thriller, this initial entry in a new series introduces a smart, appealing heroine who can outthink as well as outshoot the baddest of bad dudes."—Kirkus Reviews (starred review)