Rituals: The Cainsville Series (Paperback)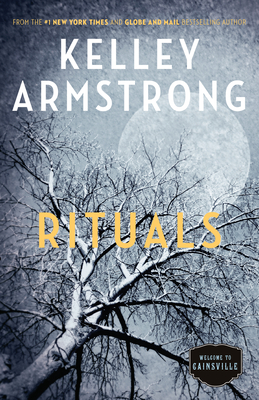 $19.95
Backordered or Out of Print
Other Books in Series
This is book number 5 in the The Cainsville Series series.
Description
---
In this gripping thriller, international bestselling author Kelley Armstrong brings the Cainsville series to a powerful, richly rewarding climax.


     What began as the search for truth has becomes a deadly game of wills and survival. 

     When Olivia Taylor-Jones found out she was not actually the adopted child of a privileged Chicago family but the daughter of a notorious pair of convicted serial killers, her life exploded. Running from the fall-out, she found a refuge in the secluded but oddly welcoming town of Cainsville, Illinois, but she couldn't resist trying to dig out the truth about her birth parents' crimes. She began working with Gabriel Walsh, a fiendishly successful criminal lawyer who also had links to the town; their investigation soon revealed Celtic mysteries at work in Cainsville, and also entangled Olivia in a tense love triangle with the calculating Gabriel and her charming biker boyfriend, Ricky. Worse, troubling visions revealed to Olivia that the three of them were reenacting an ancient drama pitting the elders of Cainsville against the mysterious Huntsmen with Olivia as the prize.
     Now, in the series finale, forces continue to work within Cainsville as the elders and the Huntsmen each try to persuade Olivia to their side. Worse still, Liv's feelings for Ricky and Gabriel remain a tangled mess, not helped by visions that in this triangle, everything hinges on her choice. But time is up, and Olivia has not chosen. Things come to a head as Seanna, Gabriel's drug addict mother who he thought was dead, makes a surprise reappearance, alongside the revelation of a third supernatural force--a dark and malevolent entity that has had its eye on Olivia since she was a baby and wants to win at any cost. 
     In the series' fifth and final novel, Kelley Armstrong delivers a final scary and surprising knock-out twist.
About the Author
---
KELLEY ARMSTRONG is the internationally bestselling author of the thirteen-book Women of the Otherworld series, the Nadia Stafford crime novels and this series set in the fictional town of Cainsville, Illinois, which also includes the novels Omens, Visions, Deceptions and Betrayals. She is also the author of the hit crime novels City of the Lost and A Darkness Absolute, three bestselling young adult trilogies, and the stand-alone YA suspense thriller, The Masked Truth. Her Otherworld characters also inspired the hit TV series Bitten. She lives in rural Ontario. The author lives in Southwestern Ontario.
Praise For…
---
"Just like Armstrong's Otherworld series, Cainsville comes to a tense, satisfying head in Rituals." —Inverse

Praise for Kelley Armstrong's Cainsville series:

"Kelley Armstrong sure knows how to spin a yarn. . . . Betrayals, Armstrong's best book yet, is the fourth novel set in the otherworldly town of Cainsville. . . . Along with the supernatural, Armstrong knows her ratiocination." —The Globe and Mail 

"Armstrong's name is synonymous with great storytelling, and this Cainsville series is definitely being set up to deliver a heck of a surprise when it all comes to an end." —Suspense Magazine

"Impossible-to-put-down. . . . Bring on the next Cainsville volume, please." —Sarah Weinman 

"[Kelley Armstrong's] dispatches from this village filled with sinister secrets are going to be keeping her readers up well into the night." —Linwood Barclay

"Kelley Armstrong has paranormal elements in her classic mysteries but there are no ghouls, ghosts, werewolves or fairies and that's why readers who loathe crossovers will love this series. [S]mart, cleverly plotted and really well written and you don't have to ignore the vampires to get to the good stuff." —The Globe and Mail

"Sometimes big, bad things really do come in small packages and no one is more adept at unwrapping them than [Armstrong]." —Providence Journal 

"I am not a fan of mysteries that cross over into other genres, and I don't like books that begin with infant narrators. So when I tell you that, despite that, Omens kept me reading on, you can bet it's a good book. . . . A clever whodunit with some very nice twists and the fantasy actually works." —Margaret Cannon, The Globe and Mail

"Armstrong creates heroines who are smart and strong, but with real weaknesses and vulnerabilities. They may be wrapped up in the supernatural, but they are realistic and relatable." —Winnipeg Free Press

"One of the best new series debuts this year! With its compelling characters and completely original set-up, Omens delivers a powerful combination of suspenseful thrills and supernatural chills. I can't wait to read more!" —Lisa Gardner, New York Times bestselling author of Touch & Go 
 
"Like the creepy, spooky town of Cainsville, Kelley Armstrong's Omens lured me in. I was busy, way too busy for this book, which, through a series of surprises and sleights of hand, had me conspiring for ways to get back to the gripping story, the colorfully bizarre cast of characters, and the clever, strong, smart heroine at its center. Don't pick this book up if you have anything else to do. It will grab you by the collar and won't let you up for air until it's good and ready. And once you're done, you won't soon forget it." —Lisa Unger, New York Times bestselling author of In the Blood