Glory Days: The Summer of 1984 and the 90 Days That Changed Sports and Culture Forever (Paperback)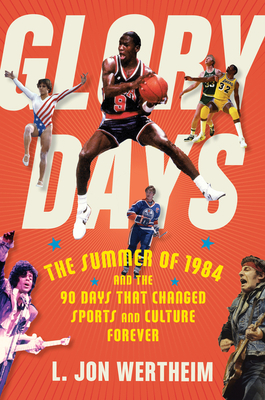 $17.99

NOT ON OUR SHELVES- available for order, usually ships in 1-5 days
Description
---
A rollicking guided tour of one extraordinary summer, when some of the most pivotal and freakishly coincidental stories all collided and changed the way we think about modern sports

The summer of 1984 was a watershed moment in the birth of modern sports when the nation watched Michael Jordan grow from college basketball player to professional athlete and star. That summer also saw the debut of ESPN and the first modern, commercialized, profitable Olympics. Magic Johnson and Larry Bird's rivalry raged, Martina Navratilova and John McEnroe reigned in tennis, and Hulk Hogan and Vince McMahon made pro wrestling a business, while Donald Trump pierced the national consciousness as a pro football team owner. It was an awakening in the sports world, a moment when sports began to morph into the market-savvy, sensationalized, moneyed, controversial, and wildly popular arena we know today.

In the tradition of Bill Bryson's One Summer: America, 1927, L. Jon Wertheim captures these ninety seminal days against the backdrop of the nostalgia-soaked 1980s, to show that this was the year we collectively traded in our ratty Converses for a pair of sleek, heavily branded, ingeniously marketed Nikes. This was the year that sports went big-time.
About the Author
---
L. Jon Wertheim is the executive editor of Sports Illustrated. He is the author of seven highly praised books, including the New York Times bestseller Scorecasting. He is a regular contributor to CNN and National Public Radio and is a commentator for the Tennis Channel.
Praise For…
---
"Glory Days is a fascinating and entertaining look back at an epic summer that had such a huge impact on my life. Jon Wertheim's knowledge and perspective on sport and its influence on pop culture is second to none." — Ralph Macchio   "1984. The Orwell novel we all read in high school? Well, yeah. But as it turns out, and as Jon Wertheim lays out, 1984 was a pivotal year in the history of sports, with many of the major trends and enduring figures emerging and converging." — Bob Costas  "For me, 1984 was the year I made a fool of myself at Jackie Zisblatt's Bat Mitzvah and sprouted my first whitehead. But thanks to Jon Wertheim's terrific Glory Days, I can now mentally replace said awfulness with images of Jordan and Magic, Mary Lou and the Great Gretzky. Who knew—1984 was pretty outstanding after all!" — Jeff Pearlman, author of Three-Ring Circus "We talk about key moments in sports; but the summer of 1984 was a key moment for sports. Jon's book is nostalgic, informative, and most of all, a lot of fun." — Chris Evert  "Fascinating . . . Glory Days is part sports history, part cultural analysis, part business book, and it's certain to draw attention far beyond the sports pages." — Booklist  "Best read of the summer so far." — Mike Vaccaro, New York Post   —