Beyond the Door of No Return: A Novel (Hardcover)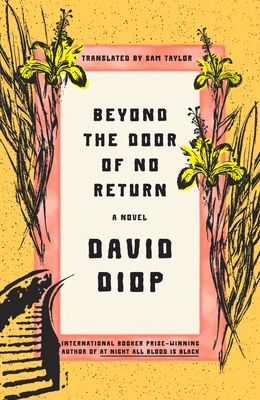 $27.00

NOT ON OUR SHELVES- available for order, usually ships in 1-5 days
Description
---
A Finalist for the 2023 National Book Award for Translated Fiction

A Financial Times best book of 2023 | Named a best book of the year by Publishers Weekly and Kirkus Reviews

"A hypnotic, powerful historical novel in which stories nest within one another like dolls . . . It all coheres mesmerizingly." —Clémence Michallon, The New York Times Book Review

"Stunningly realized . . . Exquisite . . . A spellbinding novel." —Maaza Mengiste, author of The Shadow King

The thrilling and deeply moving new novel by David Diop, winner of the International Booker Prize.

Paris, 1806. The renowned botanist Michel Adanson lies on his deathbed, the masterwork to which he dedicated his life still incomplete. As he expires, the last word to escape his lips is a woman's name: Maram.

The key to this mysterious woman's identity is Adanson's unpublished memoir of the years he spent in Senegal, concealed in a secret compartment in a chest of drawers. Therein lies a story as fantastical as it is tragic: Maram, it turns out, is none other than the fabled revenant. A young woman of noble birth from the kingdom of Waalo, Maram was sold into slavery but managed to escape from the Island of Gorée—a major embarkation point of the transatlantic slave trade—to a small village hidden in the forest. While on a research expedition in West Africa as a young man, Adanson hears the story of the revenant and becomes obsessed with finding her. Accompanied by his guide, he ventures deep into the Senegalese bush on a journey that reveals not only the savagery of the French colonial occupation but also the unlikely transports of the human heart.

Written with sensitivity and narrative flair, David Diop's Beyond the Door of No Return is a love story like few others. Drawing on the richness and lyricism of Senegal's oral traditions, Diop has constructed a historical epic of the highest order.
About the Author
---
David Diop was born in Paris and was raised in Senegal. He is the head of the Arts, Languages, and Literature Department at the University of Pau, where his research includes such topics as eighteenth-century French literature and European representations of Africa in the seventeenth and eighteenth centuries. His second novel, At Night All Blood Is Black, was awarded the International Booker Prize and the Los Angeles Times Book Prize for fiction.

Sam Taylor has written for The Guardian, Financial Times, Vogue and Esquire, and has translated such works as the award-winning HHhH by Laurent Binet, and the internationally-bestselling The Truth about the Harry Quebert Affair by Joël Dicker.
Praise For…
---
"Poignant . . . A hypnotic, powerful historical novel in which stories nest within one another like dolls . . . In a few vivid brush strokes, Diop [. . .] brings to life not only [Michel] Adanson, but also the ways in which his dreams, loves and losses shaped the lives of those around him. It all coheres mesmerizingly." —Clémence Michallon, The New York Times Book Review

"A mesmerizing tale of capture, getaway, and revenge. Diop's novel, which culminates in a terrifying sequence of events, is a testament to fiction's ability to uncover our self-deceptions, leaving them 'as if exposed to the African sun at its zenith.'" —The New Yorker

"Diop has brought his capacious mind to bear on an earlier period of encounter between Europe and Africa . . . It's hard to imagine a more gripping or fertile subject for Diop's fictional exploration . . . Romantically and dramatically is how he tells it here, with a delight in narrative that honors Senegalese oral culture . . . This is a novel with enough frame narratives to make the ghost of Joseph Conrad come and listen." —Alexandra Harris, The Guardian

"Diop masterfully teases out [Michel] Adanson's tale of youthful adventure and awakening . . . Diop has again exposed a neglected corner of the French colonial experience, expanding the country's literary conversation at a time of heated debate over national identity and culture. As Adanson reflects, 'Only fiction, the novel of a life, can give a genuine glimpse of its profound reality, its complexity; only fiction can illuminate its darkest corners.'" —Andy Tepper, Los Angeles Times

"Superbly translated . . . A compelling critique of colonial violence and the dehumanization of Black people." —Lucy Popescu, The Observer

"A compelling romantic adventure . . . [Diop's novel] can only be described as a feat of storytelling . . . Intricately layered, enfolding stories within stories, Beyond the Door of No Return is many things at once: mystery, autobiography, epistolary, romance, adventure, confession." —Sana Goyal, Financial Times

"[Beyond the Door of No Return] opens in particularly juicy fashion . . . [A novel] in the grand tradition of picaresque adventures . . . Reading about another country, another culture, another age has the brain-opening effect that Adanson experienced almost 300 years ago . . . There's nothing quite like this book out there." —John Self, The Times (London)

"A stunning and adventurous novel . . . [This book] shows how memory can be strange, beautiful, and introspective." —Tonika Reed, Vox

"Diop has turned fascinating historical records into fiction in Beyond the Door of No Return . . . Even 300 years later, Maram's touching story offers crucial lessons about unconscionable acts of slavery, perpetrated on both sides of the Atlantic Ocean." —Angela Ajayi, Minneapolis Star Tribune

"I read Beyond the Door of No Return with pleasure and admiration. David Diop has opened up a new way of thinking about the eighteenth century and its hideous cruelties." —Abdulrazak Gurnah, winner of the Nobel Prize in Literature and author of Afterlives

"Stunningly realized and written in exquisite prose, Beyond the Door of No Return is a love story, an adventure tale, and an unflinching examination of the unexpected ways that colonialism and greed ravaged everyone it touched, European and African. It is above all else, a spellbinding novel about the high price of betrayal—of others, and oneself." —Maaza Mengiste, author of The Shadow King, shortlisted for the Booker Prize

"A mesmerizing tale . . . Less brutal than Diop's International Booker Prize–winning At Night All Blood is Black (2020) but no less powerful . . . With its sumptuous physical descriptions, shades of language, and smooth overlap of truth and invention, this is masterful storytelling. The ease with which the narratives (including Aglaé's) unfold belies the emotional force they gather." —Kirkus Reviews (starred review)

"A captivating intergenerational epic influenced by Senegalese oral tradition . . . Told as a series of fast-paced stories within stories, the novel contemplates race, hierarchy, religion, legends . . . Diop writes excellently of historical and regional minutiae, as in his descriptions of the sheer heat and exhaustion his characters face on their travels. This is a novel to devour quickly, but which will leave readers contemplating its story long after." —Publishers Weekly (starred review)

"An engrossing work from a powerful and humane writer." —BookPage