Operational Updates
Reopening for in-person browsing: JUNE 6
store hours: 12pm to 6pm everyday
We are still accepting online orders, as well as care package orders at this link.
New Customer Guidelines:
No Mask, No Entry. If you don't have a mask, knock on the door and a staff member will bring you one that you can keep.
Browse with intention. Don't touch every book in the store if you don't have to.
In order to ensure touchless checkout, we are not accepting cash at this time.
Only 7 customers are allowed in the store at one time.
No pets at this time.
Children need to be vigorously supervised; they cannot leave your side while you are browsing.
All seating areas are closed.
Our tea service is currently suspended, but you can still buy the tea leaves to make at home.
Flowers from the Storm (Mass Market)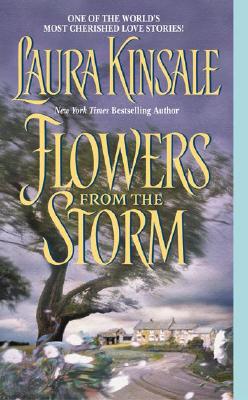 Description
---
The Duke of Jervaulx was brilliant and dangerous. Considered dissolute, reckless, and extravagant, he was transparently referred to as the ′D of J′ in scandal sheets, where he and his various exploits featured with frequency. But sometimes the most womanising rake can be irresistible, and even his most casual attentions fascinated the sheltered Maddy Timms, quiet daughter of a simple mathematician.
About the Author
---
Laura Kinsale is a winner and multiple nominee for the Best Book of the Year award given by the Romance Writers of America. She became a romance writer after six years as a geologist -- a career which consisted of getting out of bed in the middle of the night and driving hundreds of miles alone across west Texas to sit at drilling rigs, wear a hard hat, and attempt to boss around oil-covered males considerably larger than herself. This, she decided, was pushing her luck. So she gave all that up to sit in a chair and stare into space for long periods of time, attempting to figure out What-Happens-Next. She and her husband David currently divide their time between Santa Fe, New Mexico, and Texas.