Operational Updates
Reopening for in-person browsing: JUNE 6
store hours: 12pm to 6pm everyday
We are still accepting online orders, as well as care package orders at this link.
New Customer Guidelines:
No Mask, No Entry. If you don't have a mask, knock on the door and a staff member will bring you one that you can keep.
Browse with intention. Don't touch every book in the store if you don't have to.
In order to ensure touchless checkout, we are not accepting cash at this time.
Only 7 customers are allowed in the store at one time.
No pets at this time.
Children need to be vigorously supervised; they cannot leave your side while you are browsing.
All seating areas are closed.
Our tea service is currently suspended, but you can still buy the tea leaves to make at home.
Suddenly You (Mass Market)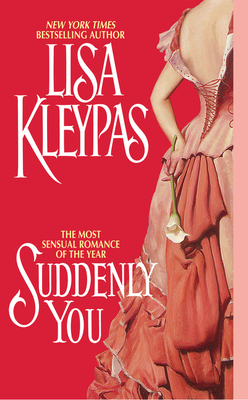 $7.99
Coming Soon - Available for Pre-Order Now
Description
---
She was unmarried, untouched and almost thirty, but novelist Amanda Briars wasn′t about to greet her next birthday without making love to a man. When he appeared at her door, she believed he was her gift to herself, hired for one night of passion. Unforgettably handsome, irresistibly virile, he tempted her in ways she never thought possible...but something stopped him from completely fulfilling her dream.
Jack Delvin′s determination to possess Amanda became greater when she discovered his true identity. But gently-bred Amanda craved respectability more than she admitted, while Jack, the cast-off son of a nobleman and London′s most notorious businessman, refused to live by society′s rules. Yet when fate conspired for them to marry, their worlds collided with a passionate force neither had expected...but both soon craved.
About the Author
---
New York Times bestselling author Lisa Kleypas graduated from Wellesley College with a political science degree. She's a RITA award-winning author of both historical romance and contemporary women's fiction. She lives in Washington State with her husband Gregory and their two children.