The Associate (Hardcover)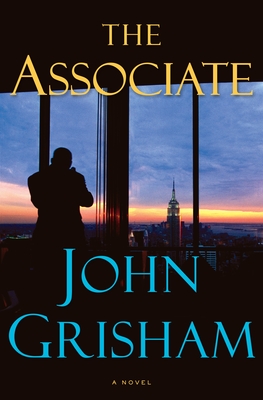 $27.95

NOT ON OUR SHELVES- available for order, usually ships in 1-5 days
Description
---
#1 NEW YORK TIMES BEST SELLER • If you thought Mitch McDeere was in trouble in The Firm, wait until you meet Kyle McAvoy, The Associate

Kyle McAvoy grew up in his father's small-town law office in York, Pennsylvania. He excelled in college, was elected editor-in-chief of The Yale Law Journal, and his future has limitless potential.

But Kyle has a secret, a dark one, an episode from college that he has tried to forget. The secret, though, falls into the hands of the wrong people, and Kyle is forced to take a job he doesn' t want—even though it's a job most law students can only dream about.

Three months after leaving Yale, Kyle becomes an associate at the largest law firm in the world, where, in addition to practicing law, he is expected to lie, steal, and take part in a scheme that could send him to prison, if not get him killed.

With an unforgettable cast of characters and villains—from Baxter Tate, a drug-addled trust fund kid and possible rapist, to Dale, a pretty but seemingly quiet former math teacher who shares Kyle's "cubicle" at the law firm, to two of the most powerful and fiercely competitive defense contractors in the country—and featuring all the twists and turns that have made John Grisham the most popular storyteller in the world, The Associate is vintage Grisham.
About the Author
---
John Grisham is the author of forty-seven consecutive #1 bestsellers, which have been translated into nearly fifty languages. His recent books include The Judge's List, Sooley, and his third Jake Brigance novel, A Time for Mercy, which is being developed by HBO as a limited series.
 
Grisham is a two-time winner of the Harper Lee Prize for Legal Fiction and was honored with the Library of Congress Creative Achievement Award for Fiction.
 
When he's not writing, Grisham serves on the board of directors of the Innocence Project and of Centurion Ministries, two national organizations dedicated to exonerating those who have been wrongfully convicted. Much of his fiction explores deep-seated problems in our criminal justice system.
 
John lives on a farm in central Virginia.
Praise For…
---
"GRISHAM HAS A FIELD DAY…The Associate grabs the reader quickly and becomes impossible to put down." —Janet Maslin, The New York Times

"Grisham's confident style hasn't changed, and THERE'S SUSPENSE APLENTY." —People

"Grisham makes it easy for us to keep flipping the pages…A DEVASTATING PORTRAIT OF THE BIG-TIME, BIG-BUCKS LEGAL WORLD." —Patrick Anderson, The Washington Post

"Throughout, Grisham unwinds the spool of his narrative at a MASTERFUL, page-turning pace that pulls readers in and keeps them wanting more…The Associate is an absorbing thriller that's A FITTING FOLLOW-UP TO THE FIRM." —The Boston Globe

"COMPULSIVELY READABLE…You're peering into a secret world of power and money. What more could you or any red-blooded American ask for?" —Time magazine

"A PAGE-TURNER…Kyle McAvoy recalls Mitch McDeere from Grisham's breakout novel The Firm. He's young, idealistic, handsome, a little too cocky for his own good, but a brilliant lawyer who gets pulled in over his head and given an education in how the world really works." —The Los Angeles Times