Not Alone: A Novel (Hardcover)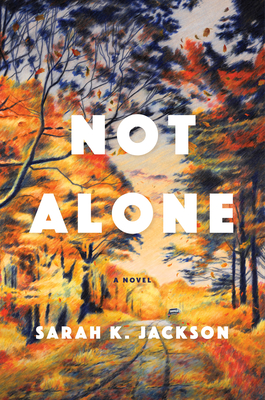 $28.00

NOT ON OUR SHELVES- available for order, usually ships in 1-5 days
Description
---
An exhilarating debut novel, tracing the harrowing journey of a mother and son fighting for survival and a future in a world ravaged by environmental disaster • "Not Alone kept me breathless with tension… [A] gripping adventure story." —Emma Donoghue, New York Times bestselling author of Room and Haven

Five years ago, a microplastic storm wiped out most of the population. No infrastructure. No safe havens. No goodbyes.

Since then, Katie and Harry have lived in isolation in their small flat outside London. Katie forages, hunts the surviving animal population, and provides for Harry, who was born after the storm, and who has never left their little home. After years without human contact, Katie and Harry are shocked by the arrival of a threatening newcomer, just as Katie's persistent cough seems to have taken a turn for the worse. But this proof of life beyond their familiar environment spurs Katie to undertake a previously unthinkable journey, in search of her fiancé, Jack, who never came home the day of the storm, and a different kind of life for Harry.

Outside of their protected bubble, Katie and Harry encounter an altered world, full of new dangers, other survivors--both friend and foe--and many surprises. Katie's resources, energy, and parenting abilities are pushed to the brink, as Harry's life and safety waver in the balance, knowing that the further they get from their flat, the harder it will be to return if things go wrong. Sarah K. Jackson combines beautiful language, palm-sweating adventure, and a deep, true-to-life parent-child bond that transcends its post-apocalyptic setting, in a debut that emphasizes the importance of resilience, hope, and sustainability today.
About the Author
---
SARAH K. JACKSON is an ecologist specializing in botany and has a keen interest in human-wildlife coexistence, conservation, climate change, and microplastics pollution. Her job has taken her all around the UK, scrambling through woodland, paddling up rivers, squelching through mountain bogs, and also sometimes overseas. She studied psychology and criminology at Cardiff University, before doing a masters in conservation ecology at Oxford Brookes University.
Praise For…
---
"Not Alone kept me breathless with tension. An outstandingly credible and gripping adventure story, rooted in a deep understanding of both ecology and family."
--Emma Donoghue, New York Times bestselling author of Room

"A gutwrenching, whiteknuckle postapocalyptic thriller--a story of love and perseverance."
--Gabriel Tallent, New York Times bestselling author of My Absolute Darling

"[Not Alone] is driven by the debut author's passionate concern for the environment. . . a stark depiction of how difficult it is for one person to raise a child alone, without support. With hauntingly beautiful descriptions of the natural world, this challenging novel is tough and memorable."
--The Guardian

"Refreshing . . . filled with penetrating interiority. . . In the end, hope is the driving force that pushes Katie towards her goals. We're going to need that kind of hopeful grit if we're to survive our own environmental catastrophe."
--Chicago Review of Books

"Tense, brutal, and tender, Not Alone cuts to the core of how and why we survive. Jackson gives readers a truly harrowing adventure about the pull of light in the darkest hour."
--Erika Swyler, bestselling author of Light from Other Stars

"This engrossing postapocalyptic cli-fi thriller . . . will have readers anxiously turning the pages and questioning their use of plastic."
--Library Journal

"Impressive . . . admirers of Lauren Beukes's Afterland will be riveted."
--Publishers Weekly

"A hell of a book . . . an intense novel you will not want to put down. Be prepared for a ride."
--Red Carpet Crash

"Intensely moving, genuinely gripping, plausible and absorbing; this is a stunningly debut by a truly talented new writer."
--Charlotte Mendelson, author of Almost English

"Not Alone is a sharp exploration of environmental apocalypse—and a celebration of pure, boundless love that can survive anything. This triumphant debut finds hope in the darkest places, and it made me want to be a better person."
—Allison Epstein, author of A Tip for the Hangman

"The emotionally wrenching story of a mother's fight to save her young son as they struggle across a toxic and hostile world. The tension never lets up. Utterly believable, always compelling, and deeply moving. I loved it."
--Ian Irvine, author of A Shadow on the Glass

"An ode to the ferocious power of motherhood, even in the face of Earth's utter devastation. Part dire warning, part love song, Not Alone explores how, like a tree bending toward sunlight, life may endure if our worst climate nightmares become reality. Haunting, endearing, and captivating."
--Caroline Woods, author of The Lunar Housewife