Nuclear Folly: A History of the Cuban Missile Crisis (Hardcover)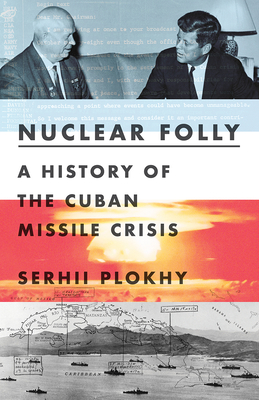 $35.00

NOT ON OUR SHELVES- available for order, usually ships in 1-5 days
Description
---
A harrowing account of the Cuban missile crisis and how the US and USSR came to the brink of nuclear apocalypse.
Nearly thirty years after the end of the Cold War, today's world leaders are abandoning disarmament treaties, building up their nuclear arsenals, and exchanging threats of nuclear strikes. To survive this new atomic age, we must relearn the lessons of the most dangerous moment of the Cold War: the Cuban missile crisis.
Serhii Plokhy's Nuclear Folly offers an international perspective on the crisis, tracing the tortuous decision-making that produced and then resolved it, which involved John Kennedy and his advisers, Nikita Khrushchev and Fidel Castro, and their commanders on the ground. In breathtaking detail, Plokhy vividly recounts the young JFK being played by the canny Khrushchev; the hotheaded Castro willing to defy the USSR and threatening to align himself with China; the Soviet troops on the ground clearing jungle foliage in the tropical heat, and desperately trying to conceal nuclear installations on Cuba, which were nonetheless easily spotted by U-2 spy planes; and the hair-raising near misses at sea that nearly caused a Soviet nuclear-armed submarine to fire its weapons.
More often than not, the Americans and Soviets misread each other, operated under false information, and came perilously close to nuclear catastrophe. Despite these errors, nuclear war was ultimately avoided for one central reason: fear, and the realization that any escalation on either the Soviets' or the Americans' part would lead to mutual destruction.
Drawing on a range of Soviet archival sources, including previously classified KGB documents, as well as White House tapes, Plokhy masterfully illustrates the drama and anxiety of those tense days, and provides a way for us to grapple with the problems posed in our present day.
About the Author
---
Serhii Plokhy, Mykhailo S. Hrushevs'kyi Professor of Ukrainian History and director of the Ukrainian Research Institute at Harvard University, is a leading authority on the history of the Cold War. He is the author of Atoms and Ashes: A Global History of Nuclear Disasters and Nuclear Folly: A History of the Cuban Missile Crisis, among many other works. He lives in Burlington, Massachusetts.
Praise For…
---
Superb.... an
immense scholarly achievement, engrossing and terrifying, and surely one of the
most important books ever written about the Cuban Missile Crisis and 20th
century international relations.
— James Rosen - Wall Street Journal

The story is
extraordinary, and Plokhy is an accomplished narrator.... This account is
probably as authoritative a version of the Soviet side as we are likely to get.
— Max Hastings - Sunday Times (UK)

[Plokhy]
provides fresh and horrifying new details.... Finishing this sobering
account, I could not help but think of the dangers that exist today from
nuclear standoffs involving Pakistan, India, China, North Korea and the United
States.
— Max Boot - Washington Post

A magisterial work
based on a bevy of U.S. and Soviet archival sources, including previously
classified KGB documents. The perspective Plokhy provides exposes the perverse
incentives that fueled dangerous nuclear power plays during the Cold War and,
he suggests, beyond.
— Andre Pagliarini - New Republic

What makes this the
definitive history is Mr Plokhy's telling of the tale in gripping detail from
the Soviet perspective.... It is the picture Mr Plokhy paints of the complete
failure of the key decision-makers to get inside the minds of their
counterparts that is most telling.... With his masterly book, Mr Plokhy has
sounded a warning bell.
— The Economist

Arguably the most
authoritative and cleverly written work on the subject yet produced. Packed
with fresh information from newly declassified Russian sources, including a KGB
archive no researcher has previously accessed.... Gripping.
— Victor Sebestyen - Financial Times

Nearly sixty years after the Cuban missile crisis, Serhii Plokhy, the author of multiple groundbreaking books on Soviet history, once again uses newly released KGB archives to offer a new perspective: In gripping, granular detail, he shows us just how close the United States and the Soviet Union came to Armageddon. At a moment when nuclear technology is still spreading, Nuclear Folly reminds us of the danger we all still face.

— Anne Applebaum, winner of the Pulitzer Prize and author of Twilight of Democracy: The Seductive Lure of Authoritarianism

If you think the story of the Cuban missile crisis has been told so often that nothing remains to be learned, think again! Drawing on KGB documents preserved in Ukrainian archives and Soviet military memoirs, as well as American documents and Cuban materials, Serhii Plokhy's almost hour-by-hour account freshly illuminates mistakes by the Kremlin and the White House that triggered the crisis and snafus at sea and in Cuba that almost sparked a nuclear war, while drawing ominous lessons for our own once again hair-trigger nuclear age.
— William Taubman, winner of the Pulitzer Prize and author of Gorbachev

An excellent overview of the Cuban missile crisis from one of America's leading Cold War historians. Serhii Plokhy has mined previously untapped Soviet archives to shed new light on the thirteen days that brought the world closer than ever before to nuclear destruction, and the pivotal roles of John F. Kennedy and Nikita Khrushchev. A thrilling read that justifies his sobering conclusion: we may not be so lucky next time.
— Michael Dobbs, author of One Minute to Midnight: Kennedy, Khrushchev, and Castro on the Brink of Nuclear War

A fresh examination of the historical milestone.... Plokhy keeps the pages turning, and he includes far more Soviet material than earlier scholars.... Far from the first account but superbly researched and uncomfortably timely.
— Kirkus, starred review

Paint[s] a clearer picture of the behind-the-scenes machinations, the motivations, the politics, and the errors in judgment that almost brought about a nuclear holocaust. Plokhy pulls it all together with sober yet accessible prose that reads like a suspenseful thriller. For anyone interested in the Cold War, this is an indispensable read.
— Booklist, starred review

This important, absorbing work shows that the full story of the Cuban Missile Crisis must be told from its global perspective.
— Library Journal, starred review