Blackthorne's Bride: A Bitter Creek Novel (Mass Market)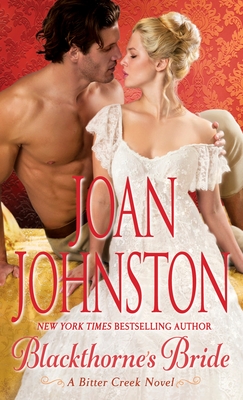 $7.99
Backordered or Out of Print
Other Books in Series
This is book number 15 in the Bitter Creek series.
Description
---
A rogue nobleman, a rescued lady, and revenge undone by romance all play a part in New York Times bestselling author Joan Johnston's irresistible novel of best-laid plots, delicious deception, and unexpected passion.
 
Two years have passed since Josie Wentworth was bought from the Sioux for a gold watch and whisked back to England by Marcus Wharton, the Duke of Blackthorne. When Marcus breaks his promise to return Josie to America, she ends up as a maid in the home of his charming but neglected nephews. Once Josie's long-lost family finds her, however, the suddenly wealthy heiress sets out to save the two boys from their indifferent uncle—and teach the duke a lesson in honor.
 
Learning that Marcus is seeking a rich American bride to save his estate, Josie plots to catch his eye—certain he'll never recognize the beauty she's become as the ragged captive he rescued. But Josie doesn't wager on her marital charade taking a tender turn, as the nobleman she's despised for years proves to be a very different man than she's imagined. And there's no denying his passionate caresses, as she falls deeper under the spell of a husband determined to claim her heart.

Praise for Blackthorne's Bride
 
"[Joan] Johnston's gloriously dramatic twelfth Bitter Creek novel, the fourth installment in her Mail Order Bride subseries, whisks readers across the Atlantic. . . . [This] page-turner is replete with romantic angst, sizzling sex, and the promise of an enduring love."—Publishers Weekly (starred review)

"Second chances, marriage of convenience, revenge, reconnection, and redemption . . . Blackthorne's Bride is another winner from Joan Johnston that gives readers a delicious story of love, laughter, forgiveness, and family."—Smexy Books
 
"Blackthorne's Bride is a sweeping tale that takes you from the Wild West . . . to Regency England. [It's] a feisty and surprisingly enticing romance that takes you on an adventure through the city streets of London and the countryside."—Addicted to Romance
 
"Riveting . . . Johnston excels at descriptions, peppered with period details that make this book a picturesque reading experience."—Buried Under Romance

The passionate Westerns in Joan Johnston's Bitter Creek series can be enjoyed together or separately, in any order:
TEXAS BRIDE • WYOMING BRIDE • MONTANA BRIDE • SINFUL • SHAMELESS • BLACKTHORNE'S BRIDE • SULLIVAN'S PROMISE
About the Author
---
Joan Johnston is the New York Times and USA Today bestselling author of more than sixty historical and contemporary romance novels. She received a master of arts degree in theater from the University of Illinois and graduated with honors from the University of Texas School of Law at Austin. She is currently a full-time writer living in Colorado.
Praise For…
---
"[Joan] Johnston's gloriously dramatic twelfth Bitter Creek novel, the fourth installment in her Mail Order Bride subseries, whisks readers across the Atlantic. . . . [This] page-turner is replete with romantic angst, sizzling sex, and the promise of an enduring love."—Publishers Weekly (starred review)
 
"Second chances, marriage of convenience, revenge, reconnection, and redemption . . . Blackthorne's Bride is another winner from Joan Johnston that gives readers a delicious story of love, laughter, forgiveness, and family."—Smexy Books
 
"Blackthorne's Bride is a sweeping tale that takes you from the Wild West . . . to Regency England. [It's] a feisty and surprisingly enticing romance that takes you on an adventure through the city streets of London and the countryside."—Addicted to Romance
 
"Riveting . . . Johnston excels at descriptions, peppered with period details that make this book a picturesque reading experience."—Buried Under Romance