Operational Updates
Click HERE for the most updated hours, customer guidelines and updates to store policy.
Shadows of Annihilation (A Novel of an Alternate World War #3) (Paperback)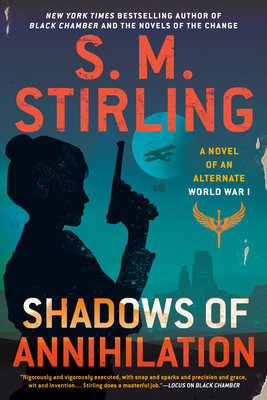 $18.00
NOT ON OUR SHELVES- available for order, usually ships in 1-5 days
Other Books in Series
This is book number 3 in the A Novel of an Alternate World War series.
Description
---
The third novel in a World War I alternate history series where America's greatest weapon against Germany is Black Chamber secret agent Luz O'Malley and technical genius Ciara Whelan. Only they can protect America's best hope of winning the war.

The Great War is at a stalemate, and the only thing stopping Germany from striking America is the threat of the United States using their own Annihilation Gas against them. But America's supply is quickly decaying and the Central Powers know it.

A plant is under construction in the remote highlands of Mexico so that America can make their own supply. President Teddy Roosevelt assigns crack agent Luz O'Malley and her technical genius Ciara Whelan to watch over the plant operating under cover identities.

But German agent Horst von Duckler has escaped from the POW camp in El Paso, and he's heading in the same direction--bent on revenge against Luz, and sabotage that will deprive America of its deterrent and kill tens of thousands.
About the Author
---
S. M. Stirling is the author of many science fiction and fantasy novels. A former lawyer and an amateur historian, he lives with his wife, Jan.
Praise For…
---
Praise for Black Chamber

"As a spy thriller, Black Chamber stacks up with the old classics of Kipling and John Buchan. As sci-fi, it comes off as terribly plausible, with Tom Clancy-like mastery of old weapons, and potential ones...a tension-filled tearaway plot."--Wall Street Journal

"Prolific fantasist Stirling packs a mighty wallop in this high-spirited alternate WWI history...A highly enjoyable espionage romp."--Publishers Weekly

"S.M. Stirling is one of the foremost practitioners of alternate history...When you've got someone who knows how to put together a spy story doing the telling, it's tough not to be sucked in."--The Maine Edge

"Stirling crams his story with so much historical detail that it threatens to burst, but alleviates this with plenty of suspense and action to keep readers turning the pages."--The Financial Times

"A rattingly good spy thriller set in an alternate First World War...A fast paced, hectic adventure."--Locus


"It's a great feeling being in the hands of an alternate history master. Black Chamber is a wonderfully fun transcontinental spy romp."--Django Wexler, author of The Infernal Battalion

"A rollicking spy thriller set in a familiar WW1, but with a 'what might have been' America."--Taylor Anderson, New York Times bestselling author of River of Bones

"A slam-bang spy thriller with an engaging female protagonist."--David Drake, author of Death's Bright Day

"Nobody carries a bigger stick in the alternate-history game than S. M. Stirling. As always, he comes up with inventive twists that keep your mind racing and the pages turning. Bravo!"-- Robert J. Sawyer, Hugo Award-winning author of Quantum Night

"Once again one of the best story-tellers in the world takes you on a wonderful ride.  Great tale, great characters ...love it. "--David Crosby, of the Byrds and Crosby, Stills & Nash

"The nice thing about getting a Steve Stirling book in the mail is that you know for a few hours you can fly on dreams of wonder, travelling to a world so much more than this angry reality."--John Ringo, author of Under a Graveyard Sky

=