Operational Updates
Click HERE for the most updated hours, customer guidelines and updates to store policy.
Research Methods in Crime and Justice (Criminology and Justice Studies) (Paperback)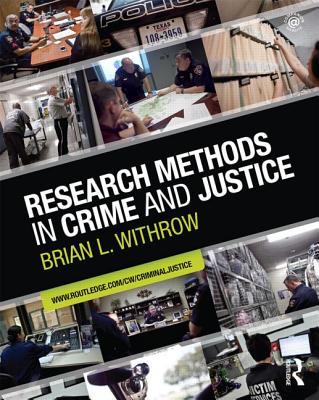 $105.00
Email or call for price
Description
---
This fresh and innovative hybrid text/online material for undergraduate CJ RESEARCH METHODS uniquely addresses the fundamental teaching issue for this course: how to communicate and successfully teach students that their future success as criminal justice practitioners is linked to their acquisition of research skills. 
The author Brian Withrow, a former Texas State Trooper, widely published academic researcher, and teacher of the undergraduate methods course, consistently demonstrates how research skills aren't just essential to university academic researchers; they are essential to student success as criminal justice practitioners, and to all who want to succeed in an information economy. More than 80 short, sharply focused examples throughout the text rely on actual research that is conducted by, on behalf of, or relevant to criminal justice practitioners. The book engages students' interests like no other.
The online materials provide a wide array of instructor support material, all written by the author, and also offer a unique feature,
The Researcher's Notebook
, which provides students (and their instructors) a series of structured exercises leading to the development and completion of a research question, conducting a literature review, and designing a research method that provides the data necessary to answer the research question -
all with a minimal amount of instructor supervision.
Cover images are courtesy of Lauren Withrow
About the Author
---
Dr. Brian L. Withrow is Professor of Criminal Justice at Texas State University-San Marcos. Prior to joining the Texas State University faculty in 2009, Brian was an Associate Professor and Director of the Forensic Sciences Program at Wichita State University. While on the faculty at Wichita State University, Dr. Withrow served one term as Mayor of Bel Aire, Kansas. From 1993 to 1999, Dr. Withrow managed a police leadership development program at Sam Houston State University in Huntsville, Texas. Prior to his scholarly career Brian worked for the Texas Department of Public Safety. He started this part of his career in 1981 as a State Trooper in a rural part of the Texas Panhandle. During the nearly 13 years Brian was at DPS he was promoted to the rank of Training Officer, Inspector, and Bureau Commander. Brian earned his Bachelor of Arts degree in Criminal Justice from Stephen F. Austin State University in 1981, his Masters of Public Administration from Southwest Texas State University in 1993, and his Doctor of Philosophy in Criminal Justice from Sam Houston State University in 1999.  Dr. Withrow lives in Austin, Texas with his wife Lisa. They have four grown children and two grandchildren. Brian is an Eagle Scout and continues to remain active in in the Boy Scouts of America. Currently he serves as the Commissioner for the Sacred Springs District.