Robert's Rules of Order: A Simplified, Updated Version of the Classic Manual of Parliamentary Procedure (Mass Market)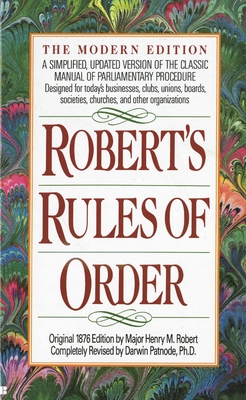 $5.99
Backordered or Out of Print
Description
---
Designed for today's businesses, clubs, unions, boards, societies, churches, and other organizations, Robert's Rules of Order will help readers conduct meetings with civility and efficiency.
 
Henry M. Robert published his first Robert's Rules of Order in 1876, and literally within days of its printing, began making changes for future printings.
 
Now, a professional parliamentarian has continued this tradition by updating Robert's classic manual for today's needs. Easy to read, understand, and apply, this new edition eliminates outdated footnotes and cross-references. It focuses on typical organizational meetings and includes a unique chart for beginners as well as experts. It is the essential tool for organizations of every type and size—a classic guide designed especially for modern readers.
About the Author
---
Henry M. Robert (1837–1923) was a military engineer. His book Robert's Rules of Order (also known as Pocket Manual of Rules of Order for Deliberative Assemblies) became the most widely used manual of parliamentary procedure to this day in the United States. During the Civil War, Robert worked on the defenses of Washington, DC, Philadelphia, and several ports in New England. He served as the president of the Board of Engineers from 1895 to 1901. Upon his retirement he was appointed chief of engineers.