Nauti and Wild (Paperback)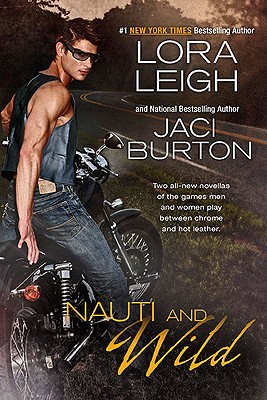 Description
---
Two bestselling authors join forces in this pair of new stories of hot men, fast motorcycles, and the women who ride both.
They ride into town straddling 73 cubic inches of throbbing horsepower, and hook up with the kind of women made for high speed handling...
#1 New York Times bestselling author Lora Leigh revisits her sultry Southern landscape with a story of a good girl gone bad. But she's not the only one going down that road...
Jaci Burton, the national bestselling author of Riding Wild and Riding Temptation, lets loose in a story of a hot biker hired to keep an eye on the reckless daughter of a Nevada senator. She's hooked up with a rival biker gang--a dangerous move that makes the wild beauty more vulnerable than she imagined...
About the Author
---
Lora Leigh is known for her deliciously intense and satisfying erotic romance. Her characters come to her in her dreams, inspiring her with the possibilities of What If... Most days, Lora can be found in front of her computer weaving daydreams while sipping the ambrosia of the gods, also known as coffee. When not writing, thinking about writing, or plotting what to write, Lora, a Kentucky native, enjoys gardening, fishing, and hiking with her husband and children.