Vampire Trinity (A Vampire Queen Novel #6) (Paperback)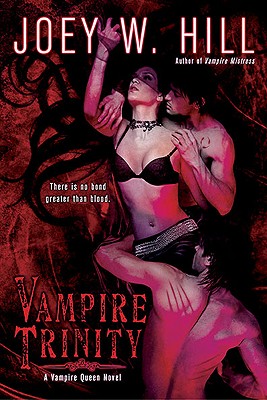 Description
---
Vampire hunter Gideon Green never intended to become a vampire's servant. But when Anwyn, a woman with whom he shared an unforgettable night, is turned by a vampire pack, Gideon is forced into an uneasy alliance with one of the most terrifying vampires he's ever encountered: the mysterious Daegan Rei.

Daegan has a vested interest in Anwyn. As Gideon and Daegan shepherd Anwyn through her dangerous validation with the Vampire Council, it's clear they must learn to trust each other. But as boundaries erode, Gideon realizes he has become irreversibly changed-by a bond with the two people in his life he can't survive without: vampires.
About the Author
---
Joey W. Hill's erotic romances, both paranormal and contemporary, have earned a unique place in the genre with their memorable characters and exceptional emotional depth. She is the author of the Knights of the Boardroom series including Honor Bound and Controlled Response, and the Vampire Queen series including Taken by a Vampire and Bound by the Vampire Queen. A recipient of multiple Top Reviewer Picks from Romantic Times, Night Owl Romance, ParaNormal Romance Reviews, TwoLips and others, she has been nominated for the Romantic Times 2009 Career Achievement Award in Erotica.
Praise For…
---
"Another searing, delicious book. Daegan has a sensual menace that is blazingly erotic, and his relationship with Gideon is electric in its intensity. Anwyn's struggle to deal with her vampirism and resulting mental illness completely enthralled me. One of the hallmarks of a fabulous writer is the ability to make you feel the eroticism in things you wouldn't normally find erotic. I never really got turned on by m/m romances until I read Vampire Trinity."--Angela Knight