Operational Updates
Click HERE for the most updated hours, customer guidelines and updates to store policy.
A Mermaid's Kiss (Mass Market Paperbound)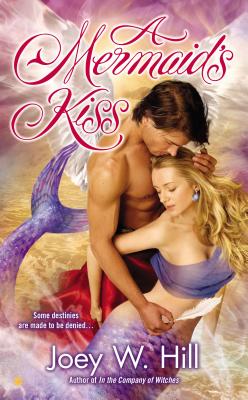 Description
---
Joey Hill's novels of erotic adventure have been lauded as "that rare experience that reminds us why we read." ParaNormal Romance] Here she spins a tale of two lost souls--a mermaid and a fallen angel--whose forbidden desire will shake the heavens and split the seas...

Having battled the Dark Ones for centuries, Jonah has lost too many of his angel brethren to them. His noble spirit is weary of endless war--which allows a Dark One to strike the blow that severs Jonah's wing and sends him plummeting into the sea.
Anna is a descendant of the mermaid whose poignant legend is much darker and more complex than the fairy tale. Though tragedy and isolation are her fate, her longing for love compels her to risk her life to protect the fallen Jonah. When Jonah delays his return to the heavens, Anna's secret passions are tempted. Jonah's destiny lies beyond her desire--and if she repeats her ancestor's mistakes, heartache will be her only reward. But as she falls more in love with him, Anna wonders if she'll lose her heart and her dreams to save Jonah's soul...
About the Author
---
Joey W. Hill is the author of the Knights of the Boardroom series, the Vampire Queen series, and the stand-alone novel, Unrestrained. Having received multiple Top Reviewer Picks from RT Book Reviews, Night Owl Romance, ParaNormal Romance Reviews, TwoLips, and others, she has also been awarded the RT Book Reviews Career Achievement Award in Erotica.
Praise For…
---
"A Mermaid's Kiss...flows with depth and emotion—an absollute pleasure to read."—ParaNormal Romance

"I am in awe of this book...A Mermaid's Kiss remains with me, and I imagine it will for a long time to come."—Wild on Books
"The sheer magnitude of magic in this story weaves a spell around [readers] and draws them in.  A beautifully written novel that's reminiscent of an adult fairy tale....Extremely thought-provoking.  An outstanding book from an outstanding author."—The Romance Studio
"Joey W. Hill proves herself to be a master storyteller in A Mermaid's Kiss. Her lyrical prose is nothing short of magical in its ability to be both superbly dark and richly erotic while retaining its fairy tale essence."—Lovin' Me Some Romance

Praise for the novels of Joey Hill
"A beautifully told story of true love, magic, and strength....A wondrous tale....A must-read."—Romance Junkies

"One of the finest, most erotic love stories I've ever read."—Shelby Reed, author of Love a Younger Man