Book, Line, and Sinker (A Library Lover's Mystery #3) (Mass Market)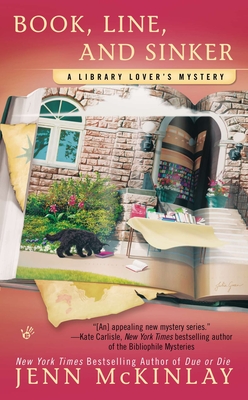 $7.99
Backordered or Out of Print
Description
---
THE
NEW YORK TIMES
BESTSELLING LIBRARY LOVER'S MYSTERY FROM THE AUTHOR OF
DUE OR DIE
"Avast" in pirate speak means what?*

Answering tricky reference questions like this one provides plenty of excitement for library director Lindsey Norris. But when a shocking murder is committed in her cozy coastal town of Briar Creek, Connecticut, the question of who did it must be answered before an innocent man gets the book thrown at him...
Lindsey is enjoying her second year in Briar Creek as the library director, meeting with the crafternoon club, and happily dating tour boat captain Mike Sullivan. But when a salvage company arrives in town to dig up treasure buried on Pirate Island over three hundred years ago, the locals are torn between protecting the island and welcoming the publicity. 
In spite of the squabbling, Charlie Peyton, Lindsey's downstairs neighbor, takes a job with the salvage company. But when Trudi Hargrave, the local tourism director who hired the company, is found murdered at the excavation site, Charlie becomes the chief suspect. To help him, Lindsey must do some digging of her own before the real killer buries the truth for good…
*stop
About the Author
---
The hardest decision Jenn McKinlay ever had to make was what to major in during college. Then she discovered the sanctuary of the library and library science—a major that allowed her to study all the subjects. She loves working as a librarian. After all, what other occupation allows you to research the ethnobotanical properties of agave, perform a puppet show for twenty wiggly toddlers, and try to answer why the rabbit's foot is considered lucky all in the same day? Her New York Times bestselling Library Lover's Mystery series includes the previous titles Due or Die and Books Can Be Deceiving. Jenn is also the author of the Cupcake Bakery Mysteries series, including Sprinkle with Murder and Red Velvet Revenge.
Praise For…
---
"A sparkling setting, lovely characters, books...What more could any reader ask?"--Lorna Barrett,
New York Times
Bestselling Author of the Booktown Mysteries
"[An] appealing new mystery series."--Kate Carlisle,
New York Times
Bestselling Author of the Bibliophile Mysteries
"McKinlay's writing is well paced [and] her dialogue feels very authentic."--
CrimeSpree