Private Arrangements (The London Trilogy #2) (Mass Market)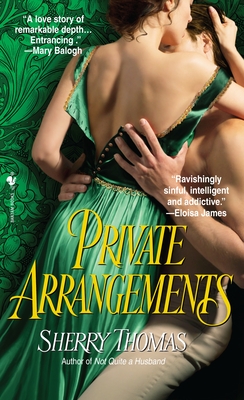 $6.99
Backordered or Out of Print
Other Books in Series
This is book number 2 in the The London Trilogy series.
Description
---
Love has designs of its own.…

To all of London society, Lord and Lady Tremaine had the ideal arrangement: a marriage based on civility, courteousness, and freedom—by all accounts, a perfect marriage. The reason? For the last ten years, husband and wife have resided on separate continents.

But once upon a time, things were quite different for the Tremaines….When Gigi Rowland first laid eyes on Camden Saybrook, the attraction was immediate and overwhelming. But what began in a spark of passion ended in betrayal the morning after their wedding—and now Gigi wants to be free to marry again. When Camden returns from America with an outrageous demand in exchange for her freedom, Gigi's decision will have consequences she never imagined, as secrets are exposed, desire is rekindled—and one of London's most admired couples must either fall in love all over again…or let each other go forever.



About the Author
---
Sherry Thomas burst onto the romance scene with Private Arrangements, one of the most anticipated debut historical romances in recent history and a Publishers Weekly Best of the Year book. Lisa Kleypas calls her "the most powerfully original historical romance author working today." Her books have received stellar reviews from Publishers Weekly, Library Journal, Chicago Tribune, and Romantic Times, along with enthusiastic praises from many of the most highly trafficked romance review websites and blogs.

Her story is all the more interesting given that English is Sherry's second language—she has come a long way from the days when she made her laborious way through Rosemary Roger's Sweet Savage Love with an English-Chinese dictionary. She enjoys creating stories. And when she is not writing, she thinks about the zen and zaniness of her profession, plays computer games with her sons, and reads as many fabulous books as she can find.
Praise For…
---
~ One of the Best Books of the Year (Publishers Weekly)

~ Double-nominated for the prestigious RITA Award for Best First Book and Best Historical Romance

~ Best Historical Romance of 2008 (Tie; Romance Buy the Book)

~ WINNER of the Romantic Times Reviewers' Choice Award for Best First Historical Romance

"A love story of remarkable depth…Entrancing from start to finish."—Mary Balogh, New York Times bestselling author
 
"Exquisite, enchanting…An extraordinary, unputdownable love story."—Jane Feather, New York Times bestselling author
 
"Ravishingly sinful, intelligent and addictive. An amazing debut."—Eloisa James, New York Times bestselling author
 
"Sherry Thomas is the most powerfully original historical romance author writing today. She is a rebel, a rule-breaker, and above all, a romantic. Searing, tender and filled with passion, her writing is nothing short of a revelation. Private Arrangements clearly heralds the beginning of a dazzling career, and I am looking forward to more brilliantly told romances from this accomplished writer."—Lisa Kleypas, New York Times bestselling author
 
"[A] superb debut, Private Arrangements…will win readers over with its elegant writing, exceptional characterization, expertly detailed late Victorian setting and exquisitely romantic love story."—Chicago Tribune

"Deft plotting and sparkling characters mark this superior debut historical…Steamy and smart."—Publishers Weekly, starred review
 
"Thomas tantalizes readers as she skillfully peels away the layers of Cam and Gigi's relationship in an enchanting, thought-provoking story of love lost and ultimately reclaimed. Lively banter, electric sexual tension, and an unusual premise make this stunning debut all the more refreshing. Thomas is a writer worth watching."—Library Journal, starred review
 
"A dazzling debut...a beautifully written, sizzling, captivating love story...Her compelling tale of love betrayed and then reborn will make you sigh with pleasure." –Romantic Times, 4 1/2-star review
 
"Sherry Thomas breathes new life into the historical genre with her rich, sensual tale of estranged lovers finding the love that first brought them together….You'll not want to be interrupted once you start."--Jane Litte, DearAuthor.com
 
"I loved every single minute I spent reading it."--Sandy Coleman, AllAboutRomance.com
 
"So if you've worried (as I have) about the future of historical romance, just remember two words: Sherry Thomas. Readers, don't miss this one. It's a keeper and be very thankful that historical romance has a new, shining star."--TheRomanceReader.com
 
"A superior historical romance….The author's writing style is excellent throughout this book….Her characters are vividly portrayed, faults and all….Well worth a read."—Curled Up With a Good Book
 
"This is an excellent story and one you need to pick up and experience for yourself." -- RomanceJunkies.com
 
"Sherry Thomas has woven a wonderful tale of regrets and secret desires. Her characters are realistic and complex. Private Arrangements is definitely worth reading." -- NightOwlRomance.com
 
"Captivating, a rich and luscious romantic treat."--Romance B(u)y the Book
 
"Once readers meet Gigi and Camden, they won't want to put this book down."-- Romance Reviews Today
 
"A deeply involving story….I loved the complicated plot and the subplot of Gigi's mother and the Duke of Perrin. The author does a wonderful job of recreating the late Victorian era and her characters are vividly real. This author is definitely one to look for."—Coffee Time Romance
 
"Private Arrangements is the best romance of the year...Sherry Thomas has made me fall in love with historical romance again."—The Mystic Castle