Silenced (Paperback)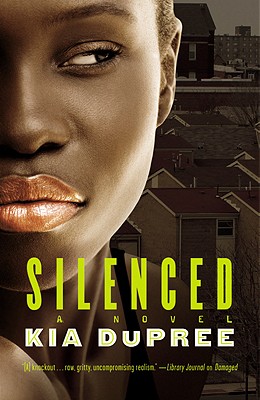 $19.99

NOT ON OUR SHELVES- available for order, usually ships in 1-5 days
Description
---
One of the hottest new writers in urban fiction, award-winning author Kia DuPree has been hailed for her heart-wrenching storytelling and unforgettable characters. Now she takes you to Washington, D.C.'s most notorious neighborhood, where a young woman has one chance to escape-and too many ways to lose . . .

SILENCED
She gets lost in the fantasy of books and poetry. But in Tinka Hampton's all-too-real world, her mother Nicola has lost her job and is struggling to stop her family's fall into poverty. With her sons turning to drug dealing-and worse-Nicola wants better things for her daughter. Yet the more pressure she puts on Tinka to do everything right, the more she drives her away . . . straight into the arms of Nine, a man as irresistible as he is lethal. Now Nicola must make unimaginable choices that will put Tinka at a dangerous crossroads. Will standing up for her seemingly impossible dreams be her way out-or will they trap her on D.C.'s merciless streets forever?
About the Author
---
Kia DuPree, a native of Washington, D.C., holds a B.A. in Mass Media Arts from Hampton University, as well as an M.A. in English from Old Dominion University. She received a Professional Studies Publishing Certificate from New York University in 2006. She is currently teaching middle school and lives with her husband and son in the DC area.
Praise For…
---
"This is a powerful family drama as Kia Dupree provides profound insight into the other side of living in DC. The cast is fully developed especially the Hampton brood whose life in the projects comes across as perilous while also emotionally wringing. Rotating perspective between mother and daughter, Silenced is a raw deep look at surviving the mean streets of a Washington in which politicians prefer to pretend it does not exist."—Harriet Klausner on SILENCED

"DuPree's knack for dialogue and her insight and compassion for her characters inspire the reader's empathy-an outstanding achievement."—Publishers Weekly on SILENCED

"This novel is the real deal. Folks seeking a title for an urban book club need look no further. Its inner city realism compares favorably with Sister Souljah's The Coldest Winter Ever and Sapphire's Push. This is easily one of my top-five fiction books of 2011. Buy it...promote it."—LibraryJournal.com on SILENCED

"Honest and heartbreakingly intense best describes Kia DuPree's new novel Silenced...DuPree scores another win in the urban realism department."—www.digg.com on SILENCED

"Every page of this novel is intriguing and entertaining. This is the type of book that should be read in high schools across the county. It has the ability to make us look at one another similarly, and maybe, even for a brief amount of time, allow us to see past cultural differences and try to understand and change the flaws that plague our society...together."—SUAVV Magazine on SILENCED

"Dupree displays an excellent ear for the dialogue, thinking, music and world views of her young characters and a talent for setting...far above standard street lit..."—Publishers Weekly on DAMAGED

"...knockout of a story...raw, gritty, uncompromising realism, telling like it is honestly and well. Dupree is an author to watch."—Library Journal on DAMAGED

"[Damaged is a] riveting story from a new and talented author."—The Gazette on DAMAGED

"Kia DuPree hits the ground running with this one. Readers will be drawn into the drama of Camille's young life, anxious to see what happens next. A page turner and intense read, this dramatic story will keep you guessing."—J.D. Mason, national bestselling author on DAMAGED

"Kia DuPree enters the literary game with her pen blazing in this unforgettable tale of a woman's determination to overcome her obstacles and not become damaged."—Joy (Deja) King, national bestselling author on DAMAGED

"Kia DuPree's literary voice sings in this beautifully written story of a young lady's tumultuous life. Easily the best book I've read this year!"—Tracy Brown, Essence Bestselling author on DAMAGED

"Kia DuPree has created a page turner, with characters so real, so vivid, they literally jump off the page. As you read, you feel every struggle, every emotion, the joy, pain, happiness, and sorrow. I had to keep reminding myself that I was reading a work of fiction!"—Mari Walker, Essence Bestselling author on DAMAGED

"In Kia DuPree's sophomore novel Damaged, she really showed readers what she could do with a pen. I'm proud of you kid!"—K'wan, Essence #1 Bestselling author of Gangsta, Gutter & Section 8 on DAMAGED