Damaged (Paperback)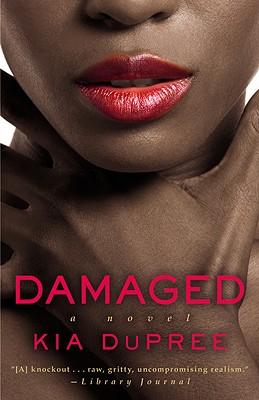 $18.99
Usually Ships in 1-5 Days
Description
---
Camille Logan feels trapped. After she is sexually and emotionally abused by her foster parents, she turns to the one person she knows she can trust--her boyfriend Chu, a mid-level drug dealer. But when life finally starts looking up for Camille, Chu is brutally murdered. Again feeling abandoned and helpless, and refusing to return to the system, Camille finds herself living with a stable of women in a tiny run-down apartment building in Washington, D.C., working for Nut, a deranged pimp. Fed up with her life, Camille is forced to right her wrongs, and slowly learns that her past does not necessarily determine her future.
About the Author
---
Kia DuPree, a former assistant editor at St. Martins Press, received the Fiction Honor Book Award from the Black Caucus of the American Library Association for her debut, self-published novel, Robbing Peter, in 2005. Kia's short story, Lost One, was recently included in #1 Essence bestselling author Shannon Holmes' anthology HOOD 2 HOOD, which was released in March 2008.

Kia holds a B.A. in Mass Media Arts from Hampton University, as well as an M.A. in English from Old Dominion University. Kia currently resides in Washington, DC.
Praise For…
---
"This was a great first novel... [I] hated to see the book come to an end."—Tracy Brown, Essence bestselling author of WHITE LINES on ROBBING PETER

"Full of twists and turns and a heart wrenching surprise ending ROBBING PETER is definitely a book that needs to be read."—RAWSISTAZReviewers on ROBBING PETER

"Kia DuPree hits the ground running with this one. Readers will be drawn into the drama of Camille's young life, anxious to see what happens next. A page turner and intense read, this dramatic story will keep you guessing."—J.D. Mason, national bestselling author

"Kia DuPree enters the literary game with her pen blazing in this unforgettable tale of a woman's determination to overcome her obstacles and not become damaged."—Joy (Deja) King, national bestselling author



"Kia DuPree's literary voice sings in this beautifully written story of a young lady's tumultuous life. Easily the best book I've read this year!"—Tracy Brown, Essence Bestselling author

"Kia DuPree has created a page turner, with characters so real, so vivid, they literally jump off the page. As you read, you feel every struggle, every emotion, the joy, pain, happiness, and sorrow. I had to keep reminding myself that I was reading a work of fiction!"—Mari Walker, Essence Bestselling author

"In Kia DuPree's sophomore novel Damaged, she really showed readers what she could do with a pen. I'm proud of you kid!"—K'wan, Essence #1 Bestselling author of Gangsta, Gutter & Section 8

"...knockout of a story...raw, gritty, uncompromising realism, telling like it is honestly and well. Dupree is an author to watch."—Library Journal

"Dupree displays an excellent ear for the dialogue, thinking, music and world views of her young characters and a talent for setting...far above standard street lit..."—Publishers Weekly

"[DAMAGED is a] riveting story from a new and talented author."—The Gazette