Houston, We Have a Problema (Paperback)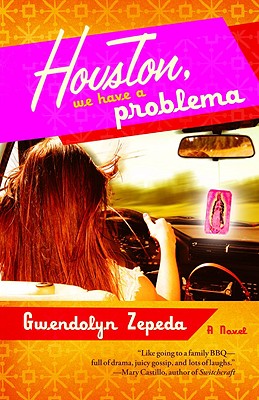 $19.99

NOT ON OUR SHELVES- available for order, usually ships in 1-5 days
Description
---
A plastic Virgin Mary and a fortune teller are a girl's best friends in this laugh-out-loud novel about a superstitious young woman who doubts herself when it comes to finding love and living her life.
Jessica Luna is your typical 26 year old: she has man trouble, mom trouble, and not a clue what to do with her life (though everyone else in her family seems to have plenty of suggestions!) After a lifetime of being babied by her family, Jess is incapable of trusting herself to make the right choices. So instead, she bases all of her life decisions on signs. She looks to everything for guidance, from the direction her rearview-mirror-Virgin-de-Guadalupe sways to whatever Madame Hortensia, her psychic, sees in the cards.

When her sort-of boyfriend Guillermo, a gifted unmotivated artist, disappoints her again, Jessica thinks it's time to call it quits. Just to be sure, she checks in with Madame Hortensia who confirms that yes, it is time for a change. (Who knew $20 could buy so much security!) Right on cue, Jess meets Jonathan; he's the complete opposite of Guillermo--of all Jess's boyfriends, in fact. He's successful, has a stable job....and is white. Jess isn't sure if Jonathan is really the change Madame Hortensia saw. Sure he gives great career advice, but is he advising her on a career she actually wants? And yes he's all about commitment, but is it Jess or her mother who really wants marriage?

Jess runs back to Madame Hortensia for advice, but even she is out of answers. Now there's only one thing that's certain: no one--not her mother, her sister, her boyfriend or her psychic--can tell her what to do. For better or for worse, Jess will have to take the plunge and make her own decisions if she wants to have any future at all.
About the Author
---
Gwendolyn Zepeda lives in Houston, Texas. Her blog GwenWorld.com and her first book To The Last Man I Slept With and All the Jerks Like Him have been mentioned in the NY Post and Seattle Post. Zepeda is a member of Nuestra Palabra, which hosts Houston's Latino Book and Family Fesitval, the largest book festival in Texas.

For more information, please visit Gwendolyn's website at www.gwendolynzepeda.com.