Who Asked You? (Paperback)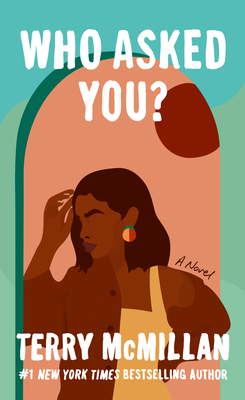 $17.00
Backordered or Out of Print
Description
---
From the #1 New York Times bestselling author…"Remember Getting to Happy, Waiting to Exhale, and How Stella Got Her Groove Back? Well, you won't likely forget Terry McMillan's Who Asked You? either" (Raleigh News & Observer).

Betty Jean already has her hands full when her grown daughter leaves her two young sons in her care. In between dealing with her other adult children, two opinionated sisters, an ill husband, and her own postponed dreams—BJ still manages to hold down a job delivering room service at a hotel.

Her son Dexter is about to be paroled from prison; Quentin, the family success, can't be bothered to lend a hand; and taking care of two lively grandsons is the last thing BJ thinks she needs. But who asked her?
About the Author
---
Terry McMillan is the award-winning, critically acclaimed #1 New York Times bestselling author of Waiting to Exhale, Getting to Happy, How Stella Got Her Groove Back, A Day Late and a Dollar Short, The Interruption of Everything, Who Asked You?, Mama, Disappearing Acts, I Almost Forgot About You, It's Not All Downhill From Here, and the editor of Breaking Ice: An Anthology of Contemporary African-American Fiction. She lives in California.
Praise For…
---
Praise for Who Asked You?

"Rich in narrative tension, nuanced humor, and moral heft.…There's a disarming, Dickensian pleasure not only in this rich, multifarious portraiture but also in the constant glints of humor, delight, and plain weirdness that emerge in even the most terrible moments of Betty Jean's story."—Los Angeles Times

"Captures the universal human desire to offer advice—however unwanted—to friends and loved ones. You didn't ask, but I'll tell you anyway: This book is worth reading."—USA Today

"A memorable and realistic…cast of characters."—The Associated Press

"Gritty, engagingly chatty.…McMillan excels at depicting small, tender moments of family dynamics."—The Seattle Times

"Right away, from page one, you know that Who Asked You? is going to be a lot of fun to read...I loved it."—Savannah Morning News

"A well-crafted story of acceptance, forgiveness, and hope…McMillan's story belongs to the middle-aged steel magnolias who value loyalty above all."—Publishers Weekly

"McMillan writes jauntily and with customary good humor…Her story affirms the value of love and family, to say nothing of the strength of resolute women in the absence of much strength on the part of those few men who happen to be in the vicinity…a solid, well-told story."—Kirkus Reviews