Windfall: Book Four of the Weather Warden (Mass Market)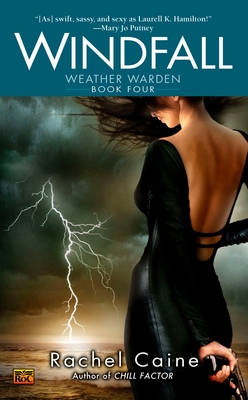 $7.99
Backordered or Out of Print
Description
---
"A rollicking good ride. Caine's prose crackles with energy, as does her fierce and lovable heroine."—Publisher's Weekly

Joanne is all-out exhausted. When not donning a rain slicker and camping it up for the camera as a TV weather girl, she has to contend with a vengeful cop on her tail, her newly divorced sister moving in—with a charming but mysterious British beau in tow—and getting caught in the middle of a supernatural civil war. Worst of all, her boyfriend in a bottle can't stop draining her powers and is fast morphing from the Djinn of her dreams to the Ifrit of her nightmares.

As the agreement between the Wardens and the Djinn starts to self-destruct, Joanne finds herself forced to choose between saving her lover, saving her Warden abilities...and saving humanity.
About the Author
---
Rachel Caine is the author of more than twenty novels, including the "Weather Warden" series. She was born at White Sands Missile Range, which people who know her say explains a lot. She has been an accountant, a professional musician, and an insurance investigator, and still carries on a secret identity in the corporate world. She and her husband, fantasy artist R. Cat Conrad, live in Texas with their iguanas, Popeye and Darwin; a mali uromastyx named (appropriately) O'Malley; and a leopard tortoise named Shelley (for the poet, of course).