Blue Diablo: A Corine Solomon Novel (Mass Market)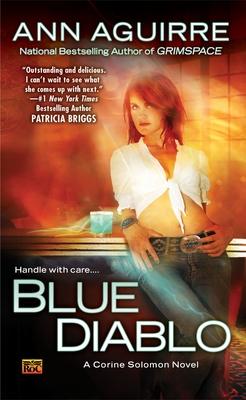 $7.99
Backordered or Out of Print
Other Books in Series
This is book number 1 in the Corine Solomon Novel series.
Description
---
Read Ann Aguirre's posts on the Penguin Blog
"Gritty, steamy and altogether wonderful urban fantasy."—New York Times Bestselling Author Patricia Briggs
View our feature on Ann Aguirre's Blue Diablo.
"Right now, I'm a redhead. I've been blonde and brunette as the situation requires, though an unscheduled color change usually means relocating in the middle of the night. So far, I'm doing well here. Nobody knows what I'm running from. And I'd like to keep it that way…"
Eighteen months ago, Corine Solomon crossed the border and wound up in Mexico City, fleeing her past, her lover, and her "gift". Corine, a handler, can touch something and know its history—and sometimes, its future. Using her ability, she can find the missing—and that's why people never stop trying to find her. People like her ex, Chance…
Chance, whose uncanny luck has led him to her doorstep, needs her help. Someone dear to them both has gone missing in Laredo, Texas, and the only hope of finding her is through Corine's gift. But their search may prove dangerous as the trail leads them into a strange dark world of demons and sorcerers, ghosts and witchcraft, zombies—and black magic…
About the Author
---
In her life, Ann Aguirre has been a clown, a clerk, a voice actress, and savior of stray kittens, not necessarily in that order. She grew up in a yellow house across from a cornfield, but now she lives in sunny Mexico with her husband and two adorable children who sometimes do as they are told.
Praise For…
---
"An authentic Southwestern-flavored feast, filled with magic, revenge and romance, spiced with memorable characters and page-turning action. ¡Muy caliente!"—Rachel Caine, New York Times bestselling author of Gale Force