Operational Updates
Reopening for in-person browsing: JUNE 6
store hours: 12pm to 6pm everyday
We are still accepting online orders, as well as care package orders at this link.
New Customer Guidelines:
No Mask, No Entry. If you don't have a mask, knock on the door and a staff member will bring you one that you can keep.
Browse with intention. Don't touch every book in the store if you don't have to.
In order to ensure touchless checkout, we are not accepting cash at this time.
Only 7 customers are allowed in the store at one time.
No pets at this time.
Children need to be vigorously supervised; they cannot leave your side while you are browsing.
All seating areas are closed.
Our tea service is currently suspended, but you can still buy the tea leaves to make at home.
Undead Girl Gang (Hardcover)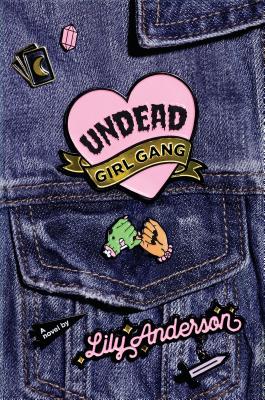 $17.99
Usually Ships in 1-5 Days
Description
---
"A fun, fast read...it will resonate with readers who dabble in any sort of arts, dark or otherwise." --NPR.org

"With a singular and hilariously cutting teen voice, UNDEAD GIRL GANG is sure to be one of the most talked-about YA novels of the year." --BookPage

Veronica Mars meets The Craft when a teen girl investigates the suspicious deaths of three classmates and accidentally ends up bringing them back to life to form a hilariously unlikely--and unwilling--vigilante girl gang.

Meet teenage Wiccan Mila Flores, who truly could not care less what you think about her Doc Martens, her attitude, or her weight because she knows that, no matter what, her BFF Riley is right by her side. So when Riley and Fairmont Academy mean girls June Phelan-Park and Dayton Nesseth die under suspicious circumstances, Mila refuses to believe everyone's explanation that her BFF was involved in a suicide pact. Instead, armed with a tube of lip gloss and an ancient grimoire, Mila does the unthinkable to uncover the truth: she brings the girls back to life.

Unfortunately, Riley, June, and Dayton have no recollection of their murders. But they do have unfinished business to attend to. Now, with only seven days until the spell wears off and the girls return to their graves, Mila must wrangle the distracted group of undead teens and work fast to discover their murderer...before the killer strikes again.
About the Author
---
Lily Anderson is a school librarian and Melvil Dewey fangirl with an ever-growing collection of musical theater tattoos and Harry Potter ephemera. She lives in Northern California. She is also the author of THE ONLY THING WORSE THAN ME IS YOU and NOT NOW, NOT EVER. She tweets @ms_lilyanderson.
Praise For…
---
"Witches get the spotlight and zombies are way more interesting than their Walking Dead relatives in this coming-of-age horror comedy....a breezy entry to the supernatural that also rewrites creature-feature rules in a smart way." —USA Today

"A compelling mystery, a grimly funny fantasy, and a genuinely touching story of friendship."—Booklist

"Mila's sardonic, darkly humorous narration drives much of this book...but Anderson also couples Mila's sarcasm with sincere grief, making an authentic picture of an outsider girl mourning the loss of her only friend." —BCCB 

"Undead Girl Gang is a YA mash up of 'The Craft' and 'Veronica Mars' with a Latina protagonist…the best mix of '90s girl power culture, compelling magic and creepy circumstances—all rolled together for the best kind of murder mystery." —Bustle.com

"Undead Girl Gang's authentic teen voice and quintessential characters transport the reader right into high school. The witty humor and suspenseful plot make this spell-binding book a fun read for older teen fans of realistic fiction with a twist of magic." —VOYA

"Female friendship and grief as seen through the lens of zombies and magic, Undead Girl Gang is twisty, wicked fun." —Goldy Moldavsky, New York Times bestselling author of Kill the Boy Band and No Good Deed

"The modern Buffy the Vampire Slayer episode we've been waiting for. Mila Flores is the witchy, sarcastic, ride-or-die (literally) BFF sure to cast a spell over you." —Zoraida Córdova, award-winning author of Labyrinth Lost

"Undead Girl Gang is the ultimate modern witch novel, with that creepy twist on female friendships that'll make you want to bust out your tarot cards and crystals. Trust me, this book is the answer to all your coven-loving, Craft-obsessed prayers." —Danielle Vega, author of the Merciless series and Survive the Night

"Undead Girl Gang is a grand spell of a book. One part revenge, two parts twisted friendship, all parts undead girl glory—with a dash of wicked romance. If you mixed Hocus Pocus, Mean Girls, and The Craft, this would be the bewitching result." —Cori McCarthy, author of Breaking Sky, You Were Here, and Now A Major Motion Picture