The Claiming of Sleeping Beauty: A Novel (A Sleeping Beauty Novel #1) (Paperback)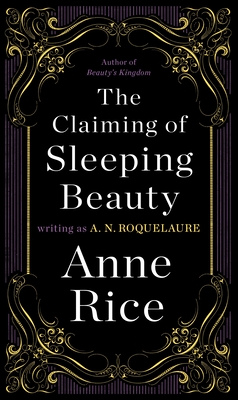 Description
---
Before E.L. James' Fifty Shades of Grey and Sylvia Day's Bared to You, there was Anne Rice's New York Times best seller The Claiming of Sleeping Beauty


In the traditional folktale of "Sleeping Beauty," the spell cast upon the lovely young princess and everyone in her castle can only be broken by the kiss of a Prince. It is an ancient story, one that originally emerged from and still deeply disturbs the mind's unconscious. In the first book of the series, Anne Rice (author of 
Beauty's Kingdom
), writing as A.N. Roquelaure, retells the Beauty story and probes the unspoken implications of this lush, suggestive tale by exploring its undeniable connection to sexual desire. Here the Prince awakens Beauty, not with a kiss, but with sexual initiation. His reward for ending the hundred years of enchantment is Beauty's complete and total enslavement to him . . . as Anne Rice explores the world of erotic yearning and fantasy in a classic that becomes, with her skillful pen, a compelling experience. Readers of
Fifty Shades of Grey
will indulge in Rice's deft storytelling and imaginative eroticism, a sure-to-be classic for years to come.
"Articulate, baroque, and fashionably pornographic." —
Playboy
"Something very special . . . at once so light and yet so haunting." —The Advocate
About the Author
---
Anne Rice was born in New Orleans in 1941. She is the author of many bestselling novels, including the widely successful Vampire Chronicles. Her first novel, Interview with the Vampire, was made into a film in 1994 starring Tom Cruise and Brad Pitt. Her other books include the Mayfair Witches series, the novels The Mummy or Ramses the Damned, Violin, Angel Time, the Sleeping Beauty trilogy, and most recently, The Wolf Gift. Anne lives and works in Southern California.