Operational Updates
Dear Ripped Bodice Community,
We want to make sure we are keeping you updated on how we are handling this crisis. It's been a very challenging time but we are hanging in there.
The shop remains closed to all customers with no events on the calendar. Once we have more clarity about the ongoing health crisis, we will reevaluate the calendar and let everyone know.
-Online orders
We are still accepting online orders and have adopted a process to best comply with the evolving guidelines from California and LA County Departments of Health.
This means that Leah is processing all incoming orders and our staff has been instructed to stay at home. Because this is now a one-woman operation, shipping may be slower than normal. We love and appreciate your support in this incredibly difficult time, so we ask that you bear with us as we continue to fill orders.
-Care packages
We are now accepting new orders for care packages. However, because we are down to a shipping staff of one, we will be accepting orders in batches so as not to overwhelm Leah. Head to this link to enter your email address, and we'll send you the order link once it's your turn.
Questions about orders (or anything) can be directed to hello@therippedbodicela.com
Finally, now is a great time to think about becoming a Patron of the store.
http://patreon.com/TheRippedBodice
There is already a ton of cool content you can check out on our page. Including 12 original short stories from some amazing romance authors. Vlogs and other fun stuff. We know this is not an option for everyone and that's totally okay and understandable. But if you're looking for a way to help, this is a great option.

We hope you are all doing okay and making it through one day at a time.
xoxo, Bea & Leah and Fitz
Double Take: An FBI Thriller (Mass Market)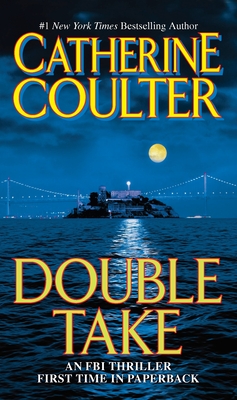 Other Books in Series
This is book number 11 in the An FBI Thriller series.
Description
---
FBI agents Dillon Savich and Lacey Sherlock are joined by one of their own and a Virginia sheriff in an extraordinary case that immerses them in the world of psychic visions, mind benders, and communications with the dead

It's been more than six months since her husband's brutal death, and Julia Ransom is just beginning to breathe again. She loved her husband, renowned psychic August Ransom, but the media frenzy that followed his murder sapped what little strength she had left. Now, after dinner with friends, strolling along San Francisco's Pier 39, she realizes that she's happy. Standing at the railing, she savors the sounds around her-tourists, seals on a barge-and for a moment enjoys the sheer normalcy of it all. And then it comes to an end. 

Out of nowhere she's approached by a respectable-looking man who distracts her with conversation before violently attacking her and throwing her the railing. If it hadn't been for Special Agent Cheney Stone, out to stretch his legs between courses at a local restaurant, Julia would have vanished into the bay's murky depths. Not only does he save her from a watery grave, but he senses a connection between her assault and her husband's death, and sets out to serve as her protector while reopening August Ransom's murder investigation. 

Meanwhile, in Maestro, Virginia, Sheriff Dixon Noble-last seen in Point Blank-still mourns his wife, Christie, who vanished hree years earlier. His life, too, is just getting back to normal when he learns of a San Francisco woman named Charlotte Pallack, whose shocking resemblance to Christie sends Dix across the country. Though he knows in his heart that she can't possibly be his wife, Dix is compelled to see her with his own eyes. Once in San Francisco, Dix and Cheney's paths inevitably cross. With the help of agents Dillon Savich and Lacey Sherlock, whose San Francisco connections prove essential in unlocking the mystery behind Charlotte Pallack's identity as well as the forces behind Julia Ransom's attempted murder, Sheriff Noble and Agent Stone push deep into a complex world of psychics and poseurs. As the stakes and the body count rise, Savich, Sherlock, Dix, and Cheney fight for answers-and their lives.
 
About the Author
---
Catherine Coulter is the #1 New York Times bestselling author of the FBI Thrillers featuring husband and wife team Dillon Savich and Lacey Sherlock. She is also the author—with J. T. Ellison—of the Brit in the FBI series. She lives in Sausalito, California.
Praise For…
---
Starred Review. At the start of bestseller Coulter's gripping 11th FBI thriller (after Point Blank), Julia Ransom is enjoying a liberating stroll on San Francisco's Pier 39 after having been suspected of the brutal murder of her renowned psychic husband, Dr. August Ransom, six months earlier and hounded by the media. When an unknown assailant throws Julia off the pier, FBI Special Agent Cheney Stone rescues her. Stone later senses a link between the attack and the death of Julia's husband. Meanwhile in Virginia, Sheriff Dixon Noble is finally feeling his life is getting back to normal after his wife went missing three years earlier. When Noble comes to San Francisco to pursue a lead into his wife's disappearance, he gets involved in a harrowing investigation with Stone into both mysteries. As usual, the author conjures strong visual images, particularly a wild car chase through the streets of San Francisco. Credible characters and a fascinating look at the world of psychics and thieves help make this one of Coulter's best. —Publishers Weekly