Never After (Paperback)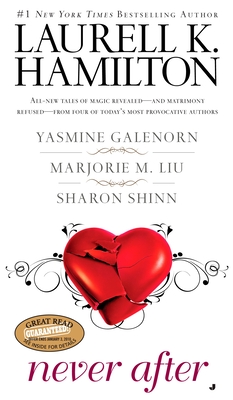 $9.99
Backordered or Out of Print
Description
---
The bonds of love...

The bonds of matrimony...

The bonds between husband and wife...

Let's face it-some bonds are made to be broken.

Here, for the first time ever, are four stories from today's most provocative authors that take the classic idea of the "faerie tale wedding" and give it a swift kick in the bustle.
About the Author
---
Laurell K. Hamilton is a full-time writer and the #1 New York Times bestselling author of the Anita Blake, Vampire Hunter series and the Merry Gentry series. She lives in a suburb of St. Louis with her family.

Yasmine Galenorn is the New York Times bestselling author of the Otherworld novels and the Fly by Night series.

Marjorie M. Liu is an attorney who has lived and worked throughout Asia. She hails from both coasts, but currently resides in the Midwest, where she writes full-time. When not writing, she enjoys listening to music, painting, designing websites, and returning to old movie favorites, some of which involve light sabers, various applications of the Force, and small green men with pointy ears. She is also, occasionally, commandeered by poodles.

Sharon Shinn is a journalist who works for a trade magazine. Her first novel, The Shapechanger's Wife, was selected by  Locus as the best first fantasy novel of 1995. She has won the William C. Crawford Award for Outstanding New Fantasy Writer, and was twice nominated for the John W. Campbell Award for Best New Writer. A graduate of Northwestern University, she has lived in the Midwest most of her life.