Operational Updates
Click HERE for the most updated hours, customer guidelines and updates to store policy.
East West Street: On the Origins of "Genocide" and "Crimes Against Humanity" (Paperback)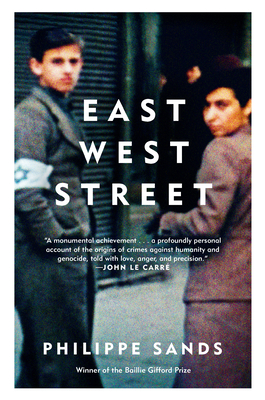 $19.00

NOT ON OUR SHELVES- available for order, usually ships in 1-5 days
Description
---
A profound and profoundly important book—a moving personal detective story, an uncovering of secret pasts, and a book that explores the creation and development of world-changing legal concepts that came about as a result of the unprecedented atrocities of Hitler's Third Reich.

East West Street looks at the personal and intellectual evolution of the two men who simultaneously originated the ideas of "genocide" and "crimes against humanity," both of whom, not knowing the other, studied at the same university with the same professors, in a city little known today that was a major cultural center of Europe, "the little Paris of Ukraine," a city variously called Lemberg, Lwów, Lvov, or Lviv. It is also a spellbinding family memoir, as the author traces the mysterious story of his grandfather, as he maneuvered through Europe in the face of Nazi atrocities.

East West Street is a book that changes the way we look at the world, at our understanding of history and how civilization has tried to cope with mass murder.
About the Author
---
PHILIPPE SANDS is an international lawyer and a professor of law at University College London. He is the author of Lawless World and Torture Team and is a frequent commentator on CNN and the BBC World Service. Sands lectures around the world and has taught at New York University and been a visiting professor at the University of Toronto, the University of Melbourne, and the Université de Paris I (Sorbonne). In 2003 he was appointed a Queen's Counsel. He lives in London, England.
Praise For…
---
Winner of the 2016 Baillie Gifford Prize for Nonfiction

"A monumental achievement . . . a profoundly personal account of the origins of crimes against humanity and genocide, told with love, anger and precision." —John le Carré

"Sands proceeds in the manner of certain historians . . . he also works in the manner of the author of thrillers. . . . In Sands's history, as in all great novels, we encounter characters who, though seemingly secondary, are essential to the plot . . . And all the while Sands works in the way of artists like Filippo Lippi, who painted himself into the corner of his 'Coronation of the Virgin' and 'The Funeral of Saint Stephen.' . . . The result is a narrative, to my knowledge unprecedented. . . . We have in Sands's East West Street a machine of power and beauty that should not be ignored by anyone in the United States or elsewhere who would believe that there are irreparable crimes whose adjudication should not stop at the border. . . . Barack Obama and his successors would be well advised to move to the top of their reading lists this account of the birth, amid the darkest conceivable shadows, of an unprecedented body of rights-based law, whose application has scarcely begun." —Bernard-Henri Lévy, New York Times Book Review (cover review)

"Sands is a fine writer and sets his scenes so compellingly and earnestly that his enterprise succeeds. . . . Engrossing, luminous and moving." —Samuel Moyn, The Wall Street Journal
 
"Remarkable sleuthing." —Christopher R. Browning, The New York Review of Books
 
"An intimate and important tale . . . vivid . . . engaging. . . . A kind of mystery-solving journey . . . remarkable." —John Tirman, The Washington Post
 
"A tour de force . . . penetrating. . . . A pillar of the emerging genre of third-generation investigation into the legacy of the European Jewish apocalypse . . . This is a history that is both personal and universal. . . . Equal parts legal scholarship, memoir and multitude of mysteries, told with admirable suspense and elocution. . . . Here we find both the detail of concepts and the detail of personal lives and geographies. . . . Sands acts as archivist and archaeologist, traveler and historian—but also as horrified observer." —Sarah Wildman, Jewish Daily Forward

"Supremely gripping. . . . Sands has produced something extraordinary. . . . Sands tells it not just as history but as a family memoir, a detective thriller and a meditation on the power of memory . . . Written with novelistic skill, its prose effortlessly poised, its tone perfectly judged, the book teems with life and high drama . . . One of the most gripping and powerful books imaginable." —Dominic Sandbrook, The Sunday Times
 
"Remarkable . . . a voyage of discovery . . . a riveting odyssey. . . . Sands elicits the most extraordinary revelations from his subjects." —Isabel Hull, London Review of Books
 
"A rare and unusual event: a book about international law that makes you want to keep reading." —Cullen Murphy, Vanity Fair
 
"Outstanding. . . . Consistently intriguing. . . . A fusion of personal and professional interest, with Sands delving into his family's cordoned-off past to unearth concealed truths and trace the circumstances that led to the birth of his chosen field of humanitarian law. . . . Powerful and poignant, but also original . . . Ultimately, Sands's multifaceted book stands triumphantly alone. It even-handedly charts four separate lives and skillfully explores a beleaguered city with blurred borders. . . . It amplifies the roar of history, dramatizes the depravity of, and the moral struggle against, what Primo Levi called the "infernal order" that is Nazism. . . . It is a fact-finding mission, a gripping courtroom drama, a tale, ultimately and cathartically, of good triumphing over evil. In Sands's pages, many beautifully adorned with photos, maps, letters—evidence—we see the piece-by-piece reconstruction of a lost world, and the development of ideas that would help safeguard a new one." —Malcolm Forbes, New Republic
 
"A compelling family memoir intersects with the story of the Jewish legal minds who sowed the seeds for human rights law at the Nuremberg trials . . . important and engrossing. . . . The surprise is that even when charting the complexities of law, Sands's writing has the intrigue, verve and material density of a first-rate thriller. . . . He can magic whole histories of wartime heroism out of addresses eight decades old. Or, chasing the lead of a faded photograph, he can unearth possible alternate grandparents and illicit liaisons to be verified only by DNA tests. . . . Exceptional." —Lisa Appignanesi, The Guardian
 
"Vivid and readable. . . . East West Street weaves lives together in a kind of collective biography of a generation . . . remarkable . . . compelling . . . moving and powerful." —Mark Mazower, Financial Times
 
"A story of heroes and loss. . . . An outstanding book; a moving history [that] at times, reads like a detective story . . . Sands's greatest achievement is the way he moves between his family story and the lives of Lauterpacht and Lemkin and how he brings their complex work to life. . . . This is the best kind of intellectual history . . . a clear, astonishing story." —David Herman, New Statesman
 
"Gripping, profound and deeply personal. . . . Excellent." —Mark Harrison, Holocaust Memorial Day Trust
 
"Remarkable . . . vivid . . . complex and gripping . . . East West Street is a fascinating and revealing book, for the things it explains: the origins of laws that changed our world, no less. Thoughtful, and compassionate, and important." —Daniel Hahn, The Spectator
 
"In East West Street, Philippe Sands brings all the power of his formidable intellect, his inquisitive spirit and his emotional imagination to bear on a complicated tangle of personal, legal and European history. In a gripping narrative that is tender yet dispassionate, intensely felt and meticulously researched, Sands uncovers the surprising affinities and divergences among the parallel lives of three men, two celebrated, one unknown, whose struggles, sorrows, accomplishments and defeats, large and small, help us to understand and, more, to feel the mittel-European civilization their lives embodied, a whole world that was destroyed and reinvented within the span of a single lifetime."
—Michael Chabon, author of The Amazing Adventures of Kavalier & Clay
 
"In a triumph of astonishing research, Sands has brilliantly woven together several family stories which lead to the great denouement at the Nuremberg tribunal. No novel could possibly match such an important work of truth." —Antony Beevor (English Military Historian)