Monsieur Pain / Monsieur Pain (Paperback)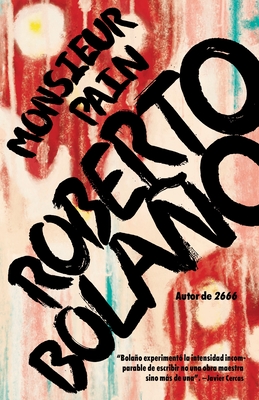 $15.00
Backordered or Out of Print
Description
---
"El mayor regalo de Bolaño es hacernos sentir la magnitud de la oscuridad sin que consigamos ver exactamente qué esconde". —Will Blythe, The New York Times Book Review

En la primavera de 1938, monsieur Pierre Pain, acupuntor y seguidor convencido de las teorías mesméricas, recibe el cometido de tratar el hipo de un sudamericano abandonado a su poca suerte y escasos medios en un hospital de París. Lo que a priori parecía un extraño caso de fi ebre alta, no obstante, se presenta ante sus ojos como un entramado de proporciones inimaginables y abre la puerta a preguntas cuyas respuestas Pain tendrá que desvelar. ¿Qué identidad se oculta tras ese rostro pobre y agonizante? ¿Quién, quiénes o qué podrían desear su muerte? ¿Y qué provecho sacarían de ella? Enfrentado a una red compleja y oscura, el mesmerista habrá de lidiar con sus pasiones más íntimas y el implacable fantasma de la soledad, con el ínfimo atisbo que a la humanidad le resta de dignidad y con la tristeza que, ola tras ola, trago tras trago, todo lo anega

ENGLISH DESCRIPTION

Occult sciences, César Vallejo, WWII, hopeless love, and a final "Epilogue for Voices": Monsieur Pain is a hallucinatory masterwork by the great Roberto Bolaño. In this work, Bolaño takes us into an odd, dark, but comic underworld in this strangely tender noir novel.

Paris, 1938. The Peruvian poet César Vallejo is in the hospital, afflicted with an undiagnosed illness, and unable to stop hiccuping. His wife calls on an acquaintance of her friend Madame Reynaud: the Mesmerist Pierre Pain. Pain, a timid bachelor, is in love with the widow Reynaud, and agrees to help. But two mysterious Spanish men follow Pain and bribe him not to treat Vallejo, and Pain takes the money. Ravaged by guilt and anxiety, however, he does not intend to abandon his new patient, but then Pain's access to the hospital is barred and Madame Reynaud leaves Paris…. Another practioner of the occult sciences enters the story (working for Franco, using his Mesmeric expertise to interrogate prisoners)―as do Mme. Curie, tarot cards, an assassination, and nightmares. Meanwhile, Monsieur Pain, haunted and guilty, wanders the crepuscular, rainy streets of Paris...
About the Author
---
Roberto Bolaño (1953-2003), narrador y poeta chileno, es autor de libros de cuentos (Llamadas telefónicas, Putas asesinas, El gaucho insufrible, Diario de bar —en colaboración con A. G. Porta— y El secreto del mal), novelas (Consejos de un discípulo de Morrison a un fanático de Joyce —en colaboración con A. G. Porta—, Monsieur Pain, La pista de hielo, La literatura nazi en América, Estrella distante, Los detectives salvajes, Amuleto, Nocturno de Chile, Amberes, Una novelita lumpen, 2666, El Tercer Reich, Los sinsabores del verdadero policía y El espíritu de la ciencia-ficción), poesía (Reinventar el amor, La Universidad Desconocida, Los perros románticos, El último salvaje y Tres) y libros de no ficción (Entre paréntesis). Está considerado una de las figuras más importantes de la literatura contemporánea en español.