Operational Updates
Click HERE for the most updated hours, customer guidelines and updates to store policy.
The Ratline: The Exalted Life and Mysterious Death of a Nazi Fugitive (Paperback)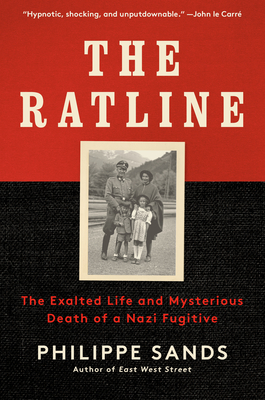 $20.00

Coming Soon - Available for Pre-Order Now
Description
---
From the author of the internationally acclaimed, award-winning East West Street comes a tale of Nazi lives, mass murder, love, Cold War espionage, a mysterious death in the Vatican, and "the Ratline"—the Nazi escape route to Perón's Argentina.

Baron Otto von Wächter was a Viennese lawyer, husband, and father. He was also a senior SS officer, a colleague of Heinrich Himmler, and the creator and overseer of the Kraków ghetto. For the murder of more than a hundred thousand Poles and Jews, he was indicted as a war criminal, and spent four years on the run, only to reach a mysterious end. With fascinating detail, Philippe Sands pieces together Wächter's extraordinary, shocking story. Given a new identity and life via "the Ratline" to Perón's Argentina, the escape route taken by Eichmann, Mengele, and thousands of other Nazis, Wächter and his escape plan were cut short by his mysterious, shocking death in Rome. In the midst of the burgeoning Cold War, was he being recruited by the Americans or by the Soviets—or perhaps both? Or was he poisoned by one side or the other, as his son believes—or by both? An extraordinary and riveting work of history, told up close through access to a unique trove of family correspondence between Wächter and his wife, The Ratline is part historical detective story, part love story, part family memoir, and part Cold War espionage thriller.
About the Author
---
PHILIPPE SANDS is an international lawyer and, since 2018, the president of English PEN. He is a frequent commentator on CNN and the BBC World Service. In 2003 he was appointed a Queen's Counsel. He lives in London.
Praise For…
---
"Gripping ... fascinating and important, told in vivid detail ... fiercely inquiring ... suspenseful ... extraordinary."--The New York Times Book Review

"Fascinating and haunting, a disquieting book that raises more questions than Sands could possibly answer ... a book that should be read and pondered again and again."--BookPage

"Part detective story and part love story ... Sands's ability to tease out Horst's emotional, and often contradictory, views of his father as an indicted war criminal is fascinating ... he unlocks here a series of provocative questions about culpability, collective guilt, and the advancement of international law."--LA Review of Books

"Solemn, graceful, and powerful ... rich, compulsively readable ... a far-reaching whodunit into a mysterious death, where even the dead ends are engaging; a wartime love story between a high-ranking SS official and his ambitious wife (and a subtly corrosive portrait of their bewildering and criminal delusions as they enjoy their gilded life); a story of a son who desperately struggles in spite of condemning evidence 'to find the good things' in his deeply flawed parents; an infuriating spotlight on cynically pragmatic ties between American spymasters, the Vatican, and Nazi war criminals; and, in a revelation that blindsides the reader, a resourceful probing into buried familial ties ... Sands is a reliable narrator--gracious, wise, and intrepid ... a remarkable chronicle."--Publishers Weekly (starred review)

"Extraordinary ... fast-paced ... with enough twists and turns to keep the reader grimly absorbed, The Ratline is an electrifying true crime."--Evening Standard

"A gripping adventure, an astounding journey of discovery, and a terrifying and timely portrait of evil in all its complexity, banality, self-justification, and madness. A stunning achievement."--Stephen Fry

"Poignant ... shocking ... estraordinarily moving."--Daily Express

"Breathtaking, gripping, and ultimately, shattering. Philippe Sands has done the unimaginable: look a butcher in the eye and tell his story without flinching."--Elif Shafak

"A burningly necessary book. Sands makes a gently unsparing dissection of deception, love, delusion, and ineradicable evil. Elegant, painstaking, passionate, and quietly enraging."--A.L. Kennedy

"A triumph of research and brilliant storytelling."--Antony Beevor