Quest for the Spark: Book Two: A BONE Companion (Hardcover)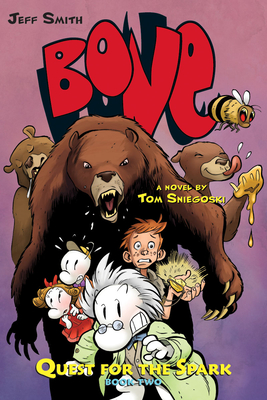 $26.99
Backordered or Out of Print
Description
---
The quest continues!The Nacht, the evil dragon that threatens to destroy both the Dreaming and the Waking World, is growing stronger, and twelve-year-old Tom Elm is the champion the Dreaming has chosen to defeat it. Along with Roderick the raccoon, Percival Bone and his nephew and niece, Randolf, Lorimar, and the two stupid Rat Creatures, Tom must race to find the missing pieces of the Spark. This leg of the journey introduces him to a trio of scheming bears and takes him into the depths of a dangerous beehive. And, on top of everything else, a traitor might be among them. . . .
About the Author
---
Tom Sniegoski is the NEW YORK TIMES bestselling author of more than two dozen novels, including The Fallen, a teen fantasy quartet. He lives in Massachusetts with his wife and their French bulldog puppy. Visit him online at www.sniegoski.com.
Jeff Smith is the creator of the award-winning, New York Times bestselling BONE series. He was born and raised in the American Midwest and learned about cartooning from comic strips, comic books, and TV animation. Visit him online at boneville.com.
Praise For…
---
Praise for Quest for the Spark #1:"A cheery jaunt back through a beloved world." --BOOKLIST"One of those very rare creatures: a successful graphic series–to-novel translation." --KIRKUS REVIEWSPraise for the BONE series:Named one of the top ten graphic novels of all time by TIME"One of the best kids' comics ever." --VIBE magazine"Jeff Smith's BONE series . . . is a true accomplishment. Not only is it a terrific graphic-novel series, but it's a superb example of storytelling." --SCHOOL LIBRARY JOURNAL"BONE is storytelling at its best, full of endearing, flawed characters whose adventures run the gamut from hilarious whimsy to thrilling drama." --ENTERTAINMENT WEEKLY

Praise for Quest for the Spark #1:"A cheery jaunt back through a beloved world." --BOOKLIST"One of those very rare creatures: a successful graphic series–to-novel translation." --KIRKUS REVIEWSPraise for the BONE series:Named one of the top ten graphic novels of all time by TIME"One of the best kids' comics ever." --VIBE magazine"Jeff Smith's BONE series . . . is a true accomplishment. Not only is it a terrific graphic-novel series, but it's a superb example of storytelling." --SCHOOL LIBRARY JOURNAL"BONE is storytelling at its best, full of endearing, flawed characters whose adventures run the gamut from hilarious whimsy to thrilling drama." --ENTERTAINMENT WEEKLY