Not Quite a Husband (The Marsdens #2) (Mass Market)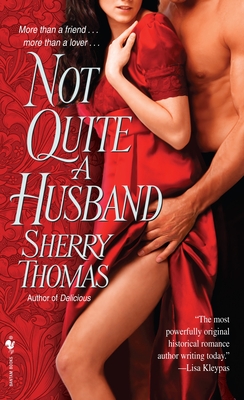 $7.99
Backordered or Out of Print
Other Books in Series
This is book number 2 in the The Marsdens series.
Description
---
Sherry Thomas is one of the hottest new voices in historical romance, garnering the highest praise from today's bestselling writers ("Entrancing." —Mary Balogh; "Ravishingly sinful, intelligent and addictive." —Eloisa James). Now Sherry delivers this powerful story of a remarkable woman and the love she thought she'd never find—with the man she thought she'd lost forever.…

Their marriage lasted only slightly longer than the honeymoon—to no one's surprise, not even Bryony Asquith's. A man as talented, handsome, and sought after by society as Leo Marsden couldn't possibly want to spend his entire life with a woman who rebelled against propriety by becoming a doctor. Why, then, three years after their annulment and half a world away, does he track her down at her clinic in the remotest corner of India?

Leo has no reason to think Bryony could ever forgive him for the way he treated her, but he won't rest until he's delivered an urgent message from her sister—and fulfilled his duty by escorting her safely back to England. But as they risk their lives for each other on the journey home, will the biggest danger be the treacherous war around them—or their rekindling passion?
About the Author
---
Sherry Thomas burst onto the romance scene with Private Arrangements, one of the most anticipated debut historical romances in recent history and a Publishers Weekly Best of the Year book. Lisa Kleypas calls her "the most powerfully original historical romance author working today." Her books have received stellar reviews from Publishers Weekly, Library Journal, Chicago Tribune, and Romantic Times, along with enthusiastic praises from many of the most highly trafficked romance review websites and blogs.

Her story is all the more interesting given that English is Sherry's second language—she has come a long way from the days when she made her laborious way through Rosemary Roger's Sweet Savage Love with an English-Chinese dictionary. She enjoys creating stories. And when she is not writing, she thinks about the zen and zaniness of her profession, plays computer games with her sons, and reads as many fabulous books as she can find.
Praise For…
---
~ WINNER of the 2010 RITA Award for Best Historical Romance

~ Romantic Times Reviewers' Choice Nominee for Best Innovative Historical Romance

"Sherry Thomas is the most powerfully original historical romance author writing today." —Lisa Kleypas

"Thomas' latest exquisitely crafted historical...is another beguiling mix of complex characters and realistically complicated romance."—Chicago Tribune

"Thomas has quickly become a fan favorite thanks to her wonderful storytelling and her unique ability to get into her characters' minds and our hearts...Add diverse plotlines, engaging characters, depth of emotion and a sweeping romance -- what more could you desire?"—Romantic Times, 4 ½ stars
 
"Rich and evocative...In mentioning new historical authors to be excited about, [Sherry Thomas's] name should always mentioned."—Jane Litte, DearAuthor.com
 
"[Sherry Thomas's] books have vaulted to the top of my "most anticipated" list...[Her] prose and storytelling are reminiscient of Laura Kinsale (in my eyes, there is hardly a higher compliment). In Not Quite a Husband I found echoes of the best of Mary Balogh, as well. Grade: A."—Jennie, DearAuthor.com
 
"Both of these bright and complex characters will captivate...Sensuous scenes and brief touches of wit are scattered throughout a suspenseful plot. Sherry Thomas's debut novel, PRIVATE ARRANGEMENTS, and the following DELICIOUS were highly praised; NOT QUITE A HUSBAND is guaranteed to be as well."—Romance Reviews Today
 
"I really enjoyed Ms. Thomas' writing. I have her previous books in the TBR pile and have every intention of cracking them open as soon as I can."—The Good, The Bad, The Unread
 
"Sherry Thomas writes in a beautifully evocative, luscious style that had me return to several passages to savor them once more…Not Quite a Husband has everything I want from a romance…Delightful but flawed characters I love and can identify with, luscious prose, an interesting setting, and a romance that touches my heart. I can't recommend it enough, and am looking forward very much to Sherry Thomas's next book. Grade: A."—All About Romance
 
"Thomas, who has made a name for herself with her exquisite use of language, deftly switches between past and present in this lyrically written, emotionally captivating story graced by beautifully developed, realistically flawed characters, clear motivation, and descriptions that make late Victorian India spring to life."—Library Journal