Go Ask Your Father: One Man's Obsession with Finding His Origins Through DNA Testing (Hardcover)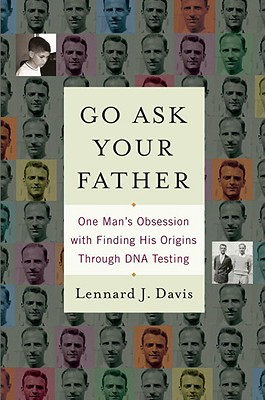 Description
---
Every family has a secret. But what if that secret makes you question your own place in the family? Mixing equal parts memoir, detective story, and popular-science narrative, this is the emotionally charged account of one man's quest to find out the truth about his genetic heritage–and confront the agonizing possibility of having to redefine the first fifty years of his life.

Shortly before his father's death, Lennard Davis received a cryptic call from his uncle Abie, who said he had a secret he wanted to tell him one day. When finally revealed, the secret–that Abie himself was Davis's father, via donor insemination–seemed too preposterous to be true. Born in 1949, Davis wasn't even sure that artificial insemination had existed at that time. Moreover, his uncle was mentally unstable, an unreliable witness to the past. Davis tried to erase the whole episode from his mind.

Yet it wouldn't disappear. As a child, Davis had always felt oddly out of place in his family.  Could Abie's story explain why? Over time Davis's doubts grew into an obsession, until finally, some twenty years after Abie's phone call, he launched an investigation–one that took him to DNA labs and online genealogical research sites, and into intense conversations with family members whose connection to him he had begun to doubt.  

At once an absorbing personal journey and a fascinating intellectual foray into the little-known history of artificial insemination and our millennia-long attempt to understand the mysteries of sexual reproduction, Davis's quest challenges us to ask who we are beyond a mere collection of genes. And as the possibility of finding the truth comes tantalizingly within reach, with Davis facing the agonizing possibility of having to reenvision his early years and his relationships with those closest to him, his search turns into a moving meditation on the nature of family bonds, as well as a new understanding of the significance of the swarms of chemicals that are the blueprints for our very human selves.  
About the Author
---
Lennard J. Davis is a professor of English, Disability Studies, and Medical Education at the University of Illinois at Chicago. He divides his time between Chicago and New York.