Jeen The Tween (Paperback)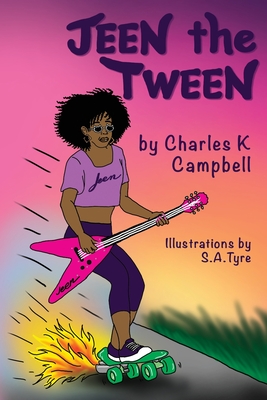 $24.95

NOT ON OUR SHELVES- available for order, usually ships in 1-5 days
Description
---
Vibrant, flamboyant, lovely and lively, Jeen the 'Tween' Green is a twelve-year-old Black girl who lives at the intersection of dream and reality. In 2020, Lansing, Michigan, Jeen stays with her parents, grandmother and 'Baby' brother.
Her dreams are centered around her skills as a guitar playing singer song writer. She's driven to compile that one mix tape that propels her to pop rock hip hop star status and a Grammy.
Jeen is driven by the notion of success and money. She cherishes friendship, and her unique relationship with God.
Jeen also embraces her blackness, and harnesses strength from successful Black women. Having a school teacher father, and a nurse mom, Jeen is middle class, rich nor poor.
For the most part she's centered but internalizes 'normal' emotional stress associated with being young, gifted and/or Black.
Jeen loathes politics, however, as a result of the Covid pandemic, social activism at home, and in the media, she's forced to delve deeper into the meaning of life.
Her sole reason for existing shifts from fame and fortune to how can she use her skills to positively impact social injustices that she sees unfolding on a daily basis.
The Green family undergo American experiences dealing with a pandemic, that include but are not limited to; layoffs, school closures, lockdown restrictions and immense suffering.
Aside from family tragedy, what impacts Jeen most are social injustices splattered across the web, specifically the George Floyd murder, police brutality against Black and brown people, unfair women's rights, etc.
Another fact that makes Jeen compelling is how she embraces the promise of an inclusive political machine over a corrupt one. Although young, Jeen sees that protesting alone is not enough to make lasting change in an imbalanced country layered with systemic racism, sexism, and phobias. After seeing a fair presidential election topple a crooked administration, Jeen realizes that voting combined with activism are critical toward mending a broken society. Even though she's pre-voting age, Jeen adds to her to-do list mobilizing a new wave of youth to vote and prevent GOP politics from ruining her dreams of making America truly a great country.
These valuable life lessons lead to self-awareness, and purpose.