From a Dark Horizon (A Gregor Reinhardt Novel #4) (Paperback)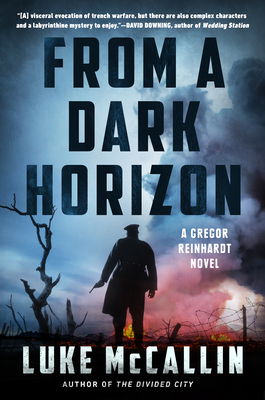 Other Books in Series
This is book number 4 in the A Gregor Reinhardt Novel series.
Description
---
In the waning days of World War I, a horrific crime behind the lines sends Lieutenant Gregor Reinhardt on a search for a killer in this electrifying thriller from the author of The Man from Berlin.

It's the final days of the Great War and four years of grinding conflict has warped more than one man's mind. When a secret meeting of top brass is called, someone sets off a bomb that kills all the attendees. It looks for sure that one of the men in Gregor Reinhardt's company is the culprit. But since that man killed himself, the General is looking for someone else to share the blame. Reinhardt must prove his trooper innocent if he hopes to avoid the fate of a co-conspirator.

The search for answers leads Reinhardt deep into a potential conspiracy populated by mutinous soldiers, a mysterious Russian nobleman, and a pair of doctors who may be doing more than treating battlefield injuries. The trenches are home to any number of horrors, but what if the greatest danger is right next to you?
About the Author
---
Luke McCallin's experiences working for the United Nations as a humanitarian relief worker and peacekeeper in the Caucasus, the Sahel and the Balkans have driven his writing, in which he explores what happens to normal people—those stricken by conflict, by disaster—put under abnormal pressures. His experiences also inspired a historical mystery series with an unlikely protagonist: Gregor Reinhardt, German intelligence officer and former Berlin detective chased out of the police by the Nazis.
 
The Man From Berlin and The Pale House were both set in Sarajevo during WWII. The Divided City followed Reinhardt's return home to Allied occupation, and a serial killer loose in the rubble.
Praise For…
---
"This book is worth reading just for its visceral evocation of trench warfare, but there are also complex characters and a labyrinthine murder mystery to enjoy. And all beautifully written."
—David Downing, critically acclaimed author of Wedding Station

"A weighty war novel whose mystery reflects the synergy between the political and personal....Series fans should enjoy his portrait of the younger, more impulsive Reinhardt."
—Kirkus Reviews