Nightbirds (Hardcover)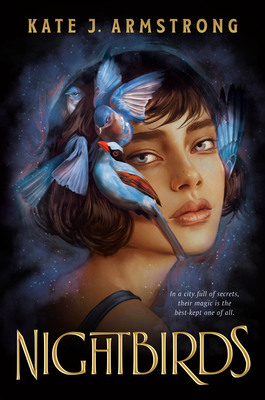 $19.99

NOT ON OUR SHELVES- available for order, usually ships in 1-5 days
Description
---
AN INTERNATIONAL BESTSELLER • In a dazzling new fantasy world full of whispered secrets and political intrigue, the magic of women is outlawed but four girls with unusual powers have the chance to change it all.

The Nightbirds are Simta's best-kept secret: Girls with a unique and powerful magic they can gift with just a kiss. Some would kill to possess them; the church would kill them outright. But protected by the Great Houses, the Nightbirds are well-guarded treasures.

As this Season's Nightbirds, Matilde, Æsa, and Sayer will spend their nights bestowing their gifts to well-paying clients. Once their season is through, they're each expected to marry a Great House lord and become mothers to the next generation of Nightbirds before their powers fade away. But as they find themselves at the heart of a political scheme that threatens not only their secrets, but their very lives, their future suddenly becomes uncertain.

When they discover that there are other girls like them and that their magic is far more than they were told, they see the Nightbird system for what it is: a gilded cage. Now they must make a choice—to remain kept birds or take control, remaking the city that dared to clip their wings.
About the Author
---
Kate J. Armstrong has always had a fondness for adventure. After graduating college, she left her home state of Virginia and has never really looked back. She's explored many places and vocations, working as a high school English teacher and a nonfiction writer and editor for publishers such as National Geographic. In 2018 she started The Exploress, a women's history podcast with a cult following and over half a million downloads. She is also the co-host of Pub Dates, a podcast that takes readers backstage to join her on the journey to publication for the book you're holding in your hands right now. When she's not writing or recording, you will find Kate hiking mountains, trying out cocktails, finding excuses to dress up in historical attire, or reading way past her bedtime. She lives in Melbourne, Australia, with her husband and their noble greyhound, Galahad.
Praise For…
---
Praise for Nightbirds:

An Amazon Best Book of the Month – March 2023

"In this sumptuous fantasy, the magic wielded by girls is outlawed, but the "Nightbirds" share it secretly—through kissing. A lush adventure." —People

★ "Lush settings, careful worldbuilding, and taut exposition [make for] . . . an electrifying, high-stakes series opener grounded in feminist themes." —Kirkus Reviews, starred review

★ "In this dazzling, fiercely feminist novel . . . debut author Armstrong uses lush, seamlessly incorporated worldbuilding, kaleidoscopic third-person-present narration told via realistically rendered characters, and fraught queer and straight romantic subplots to explore issues of classism and misogyny. With a pace that never flags and a harrowing, high-stakes plot, this distinguished read boasts texture, heft, and heart." —Publishers Weekly, starred review

★ "Armstrong's intricate debut novel . . . is packed with memorable characters . . . [and a] riveting plot." —Booklist, starred review

"The plot is full of secrets, betrayals, and twists that will make readers reluctant to set the book down for any length of time. The characters are all believable and relatable, with strengths and weaknesses to boot, and the story is laced with just enough romance. With refreshingly original characters and lush language, this debut fantasy will leave readers clamoring for the sequel." —School Library Journal

"This richly developed world with Prohibition-era flair and a fast-paced, character-driven narrative make for a strong showing from debut author Armstrong, and the layered plot offers readers plenty of action, intrigues, romance, and betrayal. . . Give this book to readers who enjoy Leigh Bardugo or Maggie Tokuda-Hall's The Mermaid, the Witch, & the Sea" —The Bulletin of the Center for Children's Books

"A luscious, sumptuously woven, and totally addictive fantasy. It's like Gatsby with magic and sky-high stakes, layer upon layer of incredible worldbuilding peeling back as we slowly uncover the spider's web of stories and secrets our characters are hoarding. From the gritty docks to the glitzy ballrooms to the magical speakeasy through the back of a wardrobe, I'd kill to have written this myself." —Amie Kaufman, New York Times bestselling author of Illuminae and Aurora Rising

"A glamour-soaked, glittering jewel of a book. Nightbirds will whirl you through a world full of dark secrets, forbidden magics and fierce girls, leaving you giddy and breathless." —Lili Wilkinson, author of A Hunger of Thorns

"With writing as beautiful as its magic and a story that packs as much of a punch as its intrepid heroines, Nightbirds is a soaring debut you won't want to miss!" —Ryan Graudin, award winning author of Wolf by Wolf