Body Neutral: A Revolutionary Guide to Overcoming Body Image Issues (Paperback)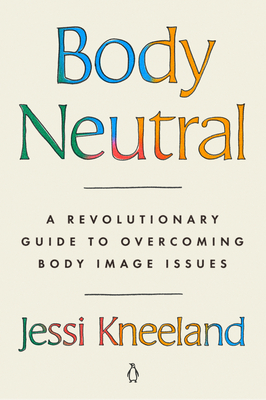 $20.00

NOT ON OUR SHELVES- available for order, usually ships in 1-5 days
Description
---
"An incredible resource for those who are looking to find greater peace with their bodies in order to live a more empowered, joyful, and meaningful life." —Matt McGorry

A life-changing guide to reclaiming your relationship with your body—and yourself
Have you ever thought that if only you could change the way you looked, your life would be better? It's so easy to imagine that by changing the outside of our bodies, we'd feel better on the inside. But we all know that even if we could magically attain a so-called "perfect" body, our problems wouldn't actually be solved. That's because body image issues are never just about the body: they're always about something deeper inside.
As a longtime personal trainer and coach, Jessi Kneeland has seen hundreds of clients achieve their fitness goals but still feel trapped in a web of body hatred, anxiety, obsession, and dysmorphia. Searching for a solution, Kneeland set out on a quest to discover what it truly takes to help people understand, process, and heal their body image issues for good. They share their discoveries in
Body Neutral,
where you'll learn:
The power of "body neutrality"—the ability to accept and respect your body, even if it isn't the way you'd prefer it to be.
Which of the four "body image avatars"—each of which represents a different root cause for body image issues—aligns with you and your relationship with your body: the self-objectifier, the high achiever, the outsider, or the runner.
Actionable and unique methods to help you strip away the layers of false meaning, excess power, moral significance, and shame that have been preventing you from both connecting to and appreciating your body, and feeling truly worthy as a person. 
There is a reason you're unhappy with your body, and
Body Neutral
will help you discover what that reason is and how to defuse its power, freeing you to enjoy a life of true confidence, security, and satisfaction.
About the Author
---
Jessi Kneeland (they/them) is a coach, writer, and speaker dedicated to helping people overcome the suffering associated with body anxiety, insecurity, and negativity, and to improve their relationship with their bodies. After working as a personal trainer for a decade in New York City, Kneeland became an iPEC certified life coach and launched a coaching practice centered around the meaningful work of self-acceptance. Their innovative approach allows them to partner with clients individually and in groups to help them find body acceptance, a strong sense of self-worth, and true confidence. They are committed to the pursuit of body neutrality—a philosophy predicated on the idea that how we look is the least interesting and important thing about us. Their work has been featured in Women's Health, Shape, Pop Sugar, Refinery29, BuzzFeed, Hello Giggles, and more, and their TED talk has been viewed by over 50,000 people. They live in North Carolina with their partner and cat.
Praise For…
---
One of PureWow's 11 Books We Can't Wait to Read in June
One of Love What Matters's 5 Books About Body Neutrality To Add To Your Reading List

"Body neutrality means rejecting the idea of having to love or hate our bodies and instead just accept the fact that they're there. Rather than celebrating the way our body looks, why don't we focus on what our bodies can do? In writing this guide, longtime personal trainer and coach, Jessi Kneeland (they/them) set out to discover what it truly takes to help people understand, process and heal their body image issues for good. According to Kneeland, there's a reason you're unhappy with your body, and Body Neutral seeks to help you discover what that reason is and how to defuse its power, freeing you to enjoy a life of confidence, security and satisfaction."
—PureWow

"A must-read book that dives deep into the concept of body neutrality. It serves as a great jumping-off point to understanding this concept. Kneeland offers valuable insights and practical advice on how to cultivate a more positive relationship with your body. Through personal stories and thought-provoking exercises, Kneeland encourages readers to embrace body neutrality, focusing on self-acceptance and appreciation rather than constant scrutiny and body shame."
—Love What Matters

"Body Neutral is an incredible resource for those who are looking to find greater peace with their bodies in order to live a more empowered, joyful, and meaningful life."
—Matt McGorry

"In Body Neutral, Kneeland illustrates a liberating pathway to help people untangle their self-worth from their body image, healing their perceptions of their bodies as they go. Navigating the work of body neutrality through identifying 'body image avatars,' Kneeland helps people get to the root of their body anxiety and utilize strategies to heal. This is an important book for people ready to interrogate their feelings about their bodies and move toward body neutrality in practical, manageable steps."  
—Lexie Kite, PhD, coauthor of More Than a Body

"Refreshing, transformative, revolutionary. Body Neutral is an actionable, practical guide to overcoming not only our individual body image suffering, but collectively dismantling the hierarchies that exist at the root of these issues, and moving toward greater justice, fairness, and equity for all bodies."
—Molly Galbraith, cofounder of Girls Gone Strong and creator of GGS Academy

"There's a lot here for readers who are serious about coming to terms with their body image and willing to do the work to make it happen."
—Booklist

"Kneeland presents a fresh approach to body acceptance in their thought-provoking debut. . . . Kneeland outlines an inclusive attitude toward self-acceptance aimed at readers of all races and gender identities, and the advice is informed without getting preachy. Anyone hoping to repair a troubled relationship with their body should give this a look."
—Publishers Weekly