The Salvation Gambit: A Novel (Paperback)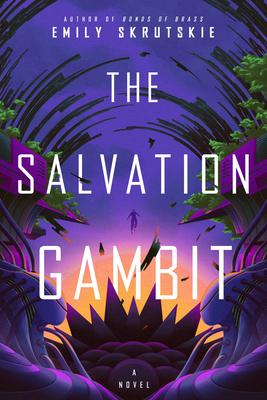 $18.00

NOT ON OUR SHELVES- available for order, usually ships in 1-5 days
Description
---
A hotheaded hacker must outwit the AI at the heart of a rogue warship–turned–penal colony if she and her crew of con women want to escape with their lives in this electrifying sci-fi thriller from the acclaimed author of Bonds of Brass.

"Fleet-footed, quick-witted, and beguiling, The Salvation Gambit is a good old-fashioned tale of high adventure."—Emery Robin, author of The Stars Undying

Murdock has always believed in Hark, the woman who shaped her from a petty thief and lowlife hacker into a promising con artist. Hark is everything Murdock aspires to be, from her slick fashion sense to her unfailing ability to plan under pressure. Together with Bea, a fearless driver who never walks away from a bet, and Fitz, Murdock's infuriatingly mercurial rival who can sweet-talk the galaxy into spinning around her finger, they form a foursome with a reputation for daring heists, massive payoffs, and never, ever getting caught.

Well, until now.

Getting caught is one thing. Getting tithed to a sentient warship that's styled itself into a punitive god is a problem this team has never faced before. Aboard the Justice is a world stitched together from the galaxy's sinners—some fighting for survival, some struggling to build a civilized society, and some sacrificing everything to worship the AI at the heart of the ship.

The Justice's all-seeing eyes are fixed on its newest acquisitions, Murdock in particular. It has use for a hacker—if it can wrest her devotion away from Hark. And Murdock's faith is already fractured. To escape the Justice's madness, they need a plan, and Hark might not be up to the task.

If Hark—brilliant, unflappable Hark—can't plot a way out, Murdock will have to use every last trick she's learned to outwit the Justice, resist its temptation, and get her crew out alive.
About the Author
---
Emily Skrutskie is six feet tall. She lives and works in Los Angeles. Skrutskie is the author of Vows of Empire, Oaths of Legacy, Bonds of Brass, Hullmetal Girls, The Abyss Surrounds Us, and The Edge of the Abyss.
Praise For…
---
"Fleet-footed, quick-witted, and beguiling, The Salvation Gambit is a good old-fashioned tale of high adventure, whose seductive villain I won't forget in a hurry."—Emery Robin, author of The Stars Undying

"Fast-paced and tightly plotted, The Salvation Gambit grabs you from the first page and takes you for a ride that'll leave you electrified. Emily Skrutskie's roguish characters are easy to fall for and even easier to follow in a warship-turned-world that keeps the twists coming."—Linden A. Lewis, author of The First Sister trilogy